On Day 1 of the Arise Ghana demo at Nkrumah Circle, the journalistic eyes of the Citi News team covering the event caught me as a protestor with an uncharacteristic profile: a professor at the University for Development Studies (UDS) who travelled from Tamale to Accra to participate in the demo. They interviewed me and posted the clip of the interview on their Facebook page. In a few hours, the video went viral. As of the time of typing these words, it has hit 5.3k likes/loves and 743 shares (https://web.facebook.com/hashtag/citinewsroom)
In a "normal" democracy, what I said in the interview would have passed as a citizen engaged in normal civic activism. No! Not in the present system of government in Ghana. My views were considered a serious threat to the system, and should be counteracted immediately, and my voice must be gagged immediately. So, the reaction of the active and reserve army of "the Powers that be" was with the speed of light. It quickly activated its units stationed at UDS to find some dirt on me to be used to discredit me on social media. Hard put to finding the oft-cited dirt of university lecturers – sex for grades – they settled on distorting an administrative issue I had with the UDS management, concerning a serious health problem I had while visiting my family in Canada. A visit that was with the permission of the Vice Chancellor as administrative procedures dictate.
This is how they proceeded: take this administrative issue, twist the facts and turn it to dirt on me. Then generate a WhatsApp message on the supposed dirt and circulate it as widely as possible. See below the said WhatsApp message: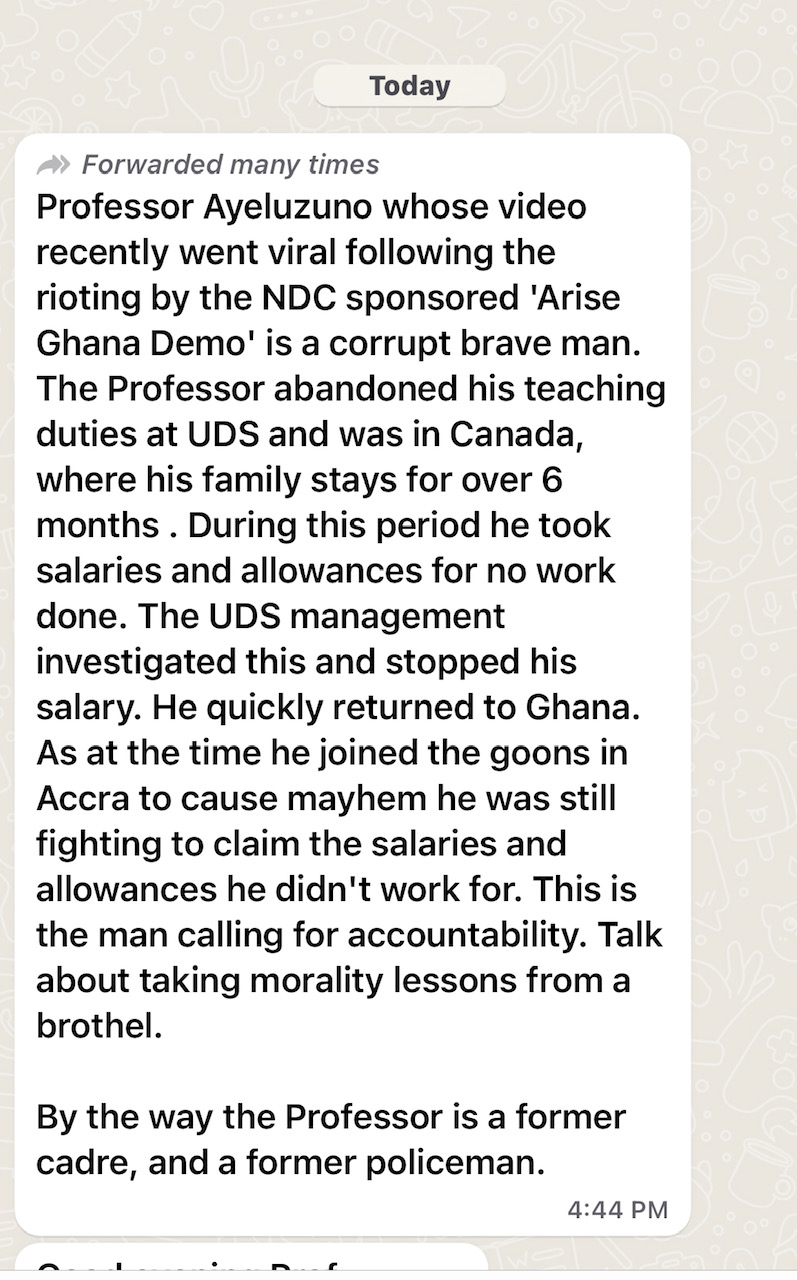 Based on my experience, I can confirm that "the powers that be" are intolerant of criticisms or divergent views on the way this country is governed. Their skin is so soft that any harmless criticisms can cut through it as a knife cuts through butter. For this reason, they have established an active and reserve army of social media attack dogs, ready to be unleashed on critics; doing so by grinding them in their propaganda mill. Their war strategy? The deployment of the full force of a combination of sabotage, subterfuge, propaganda – the "shock and awe" American military tactics – against these critics. My interview got under their thin skin and they called this army into action. But I am sorry for them, because their smear campaigns against me on social media are like a breeze blowing over my head.
At this point, they need to know the enemy they are up against. He is undeterred in the face of such smear campaigns. This is not your typical professor, who spent his whole life in school, as both a student and a lecturer. While some of the elements of the war apparatuses of "the powers that be" were yet to be born, or being fed with their mothers' breast milk, or attending kindergarten or primary school, this professor was a police constable, holding a gun and doing mobile patrols of Accra to fight armed robbers. He was engaged in police operations to keep the peace for them and their parents to live in peace.
"Shock and awe" tactics don't shake this man a little bit, because he has faced and survived life-threatening situations in war zones, both in and outside Ghana. For example, he survived in Bosnia and Kosovo, representing Ghana in UN peace-keeping duties; and did so with the bravery of a warrior, yet with the expertise of a peace-keeper. He has been in hot-spots of Ghana to keep peace.
This professor cannot help fighting for the poor, powerless, and exploited due to his own family background of poverty. Believe me, I walked barefooted to school in the scorching sun of the Upper East Region. I have gone to school hungry and returned and stayed home hungry. I am sorry to disappoint, but with this background, I cannot be anything but a voice and fighter for the poor – despite my present middle-class status.
With this background, and with the advantage of my political science training, I hate our Ghanaian politicians, regardless of their party colours; because they deceive poor people with juicy promises or buy their votes to come power. Then they loot the coffers of state to enrich themselves, their families and cronies.
Yet, I recognise the differences in character of Ghanaian politicians. One will be a pathetic fool if he/she thinks that there is no difference in character between Prof Atta Mills, Rawlings, and Mahama. Mills is far, far more a man of integrity, more committed to fighting corruption than Rawlings and Mahama. Similarly, one will be a big fool to paint in broad brushstrokes Kufuor and Akufo-Addo, namely, that there is no difference between the two in terms of quality of governance, both in their respect for the doctrines/practices of democracy and commitment to fighting corruption. The record of the governance of Akufo-Addo demonstrates that he does not come close to Kufuor in good governance. While I view the Ghanaian political elites as broadly corrupt and deceptive, I vote for one or the other based on the shades of difference in their character, not their party colours.
This is the brief backdrop to my participation in the Arise Ghana demo that has given sleepless nights to elements of "the powers that be". They are busy searching for mud to throw at me. I wish them good luck, but they should get one thing clear: I have done my bit for this country to be silenced by people who, perhaps, have not done anything; except join one political party or the other, lick the anuses of the leaders of these parties, get into one public office or the other, and then start stealing from the people. Or are just sycophantic party supporters, who worship their party and its leaders as cults.
For me, my party is the poor and vulnerable, and I will keep fighting for them. Aluta continua!
Jasper Abembia Ayelazuno ( [email protected] 0242404059)