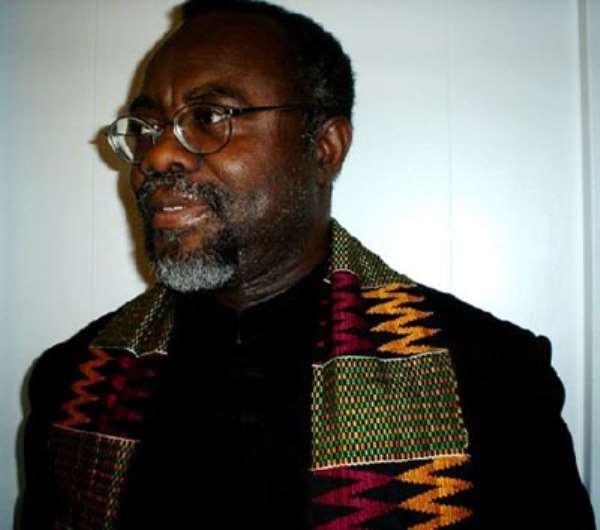 The canonization of the pioneering leaders of any country is globally recognized as a matter of course. And so recently, when Dr. Edward Mahama, of the People's National Convention (PNC), announced his intention to exhort the Ghanaian parliament to set aside a commemorative day in honor of Osagyefo Dr. Kwame Nkrumah, many of us were quite elated. Nonetheless, Dr. Mahama's call had a deeply disturbing aspect to it. And, needless to say, the existence of the latter rendered his call rather hollow and almost embarrassing. And here, we are squarely alluding to the gaping failure of the so-called, card-carrying Nkruma(h)ists to rally their forces and their followers behind a single banner and then, a single party. As it stands, the continuous gratuitous maintenance of two political parties in the name of the foremost continental African proponent of the African Union verges on the outright sacrilegious. And needless to say, such gross misalignment of the proverbial faithfuls bespeaks of the tragic crisis of confidence in that camp. And it makes one begin to wonder, as Americans would say, whether Dr. Mahama and his faction are for real. For instance, how did we move from Convention People's Party (CPP) to Dr. Mahama's People National Convention (PNC)? Was it just a matter of sheer, pathological megalomania, or simply a classical case of charlatans and poseurs pretending to be the sole proprietary legatees of Nkrumahism? (By all means, don't tell me about Nii Ataa Jato June 4th prohibiting the formation of replicas of the originals; that was umpteen years ago).
And, needless to say, we pose the preceding questions because the very blistering and disarraying condition of these self-proclaimed Nkrumahists reflects diametrically opposite on what it really means to be an Nkrumahist. And it goes without saying that it was the proverbially uncanny ability of the putative founder of modern Ghana that significantly distinguished the Osagyefo from his political opponents. Thus, to go about claiming to be the heir of the foremost political organizer of contemporary Ghanaian politics and yet only acquit oneself as the most disorganized political force, reeks of nothing short of the outright scandalous. And, indeed, it is a scandal to have to live with the grim fact that the Ghanaian coordinate, or counterpart, of General George Washington today has no formidable political force to effect a significant impact on the post-colonial Ghanaian political landscape.
One reason, indeed, could be that those now claiming to be his heirs were, perhaps, too young to fully appreciate the ideological objectives of the man. A few of them might have even been members of the Young Pioneers' Movement (YPM) – and there is nothing wrong about the latter. To be certain, as a toddler suffering from measles, I used to march "butt-naked," as New Yorkers would say, behind some of the street-parades organized by the Young Pioneers. My elder brother and cousin, Chenard Sintim-Aboagye, were members of the YPM, and so were three or four of my elder female cousins.
One thing that I learned, even as a toddler, was the fact that the YPM was a civic organization which inculcated a positive sense of national identity in its members. It was, indeed, organizations such as the YPM that remarkably reduced the unsavory spate of ethnocentrism – or tribalism – in our country. Indeed, it is to the Osagyefo's great credit that one often hears Ghanaians, as well as many other non-Ghanaian Africans, remark on the fact that the sort of intense and near-pathological tribalism that is routinely alleged to prevail in Nigeria, for instance, does not exist in Ghana. And to a remarkable extent, this may explain who so far our beloved country has been spared the sort of bestial mayhem raging through such countries as Liberia, Sierra Leone, Cote d'Ivoire, Congo-Kinshasa, Uganda, the Sudan and Rwanda. Some cynics and those who have not bothered to critically examine Ghanaian history glibly attribute the relatively tranquil Ghanaian situation to our purportedly compact ethnic affinities. In other words, to these cynics, the fact that one ethnic group, namely, the Akan, appears to predominate enforces a kind of kinship bond that acts as a brake on the potential outbreak of violence. Interestingly, however, the subscribers to the latter school of thought woefully fail to explain the numerous wars of conquest, expansion and severance fought among the Akan. The Akyem – Abuakwa, Kotoku and Bosome – fought at least an orally recorded ninety-nine (99) battles with the Asante. Needless to say, by and large, while the Akan have, indeed, been globally recognized as quite high up among the ranks of the most civilized humans, President Nkrumah's unitary ideological approach to post-colonial Ghanaian politics massively contributed to the relatively more sophisticated Ghanaian national consciousness.
And here, it may be interesting to recall that this writer's maternal grandmother, who possessed the equivalent of only a third- or fourth-grade of formal education, was often heard to remark that: "It was Kwame who arrived on the Ghanaian political landscape and proclaimed that Ghanaians were all one people. It was Kwame who said that there were no Fantes and Asantes, Northerners and Southerners; we are all Ghanaians." Indeed, anytime that I recall these moments, I almost feel like laughing out loud; and the simple reason is that the very first time that I heard my grandmother make the preceding observation, I actually thought that the Old Lady was referring to me. Of course, it also didn't hurt, at all, that I was also named Kwame. In fact, after the first of the preceding moments, I began to think that perhaps there was something special about all "Kwames," that is, all Saturday-born Akans. (I know some godforsaken cynic is going to shortly E-mail me and tritely say that Nkrumah was an Nzema, Guan or some such ethnic affiliate, not Akan). And it also didn't hurt that Dr. J. B. Danquah was also Kwame Kyeretwie, a great matador of sorts. And then I also learned from both Church and home that even God was a Kwame, which immediately seemed to explain the fact that the Almighty would take a rest on a Saturday, after spending the preceding six days creating and molding the world into ship shape. Later, I would also learn that the Osagyefo was not born on a Saturday at all, but on a Friday. But this damper, of course, hardly altered anything – for after all, wasn't Friday just the elder cousin of Saturday?
On the 33rd anniversary of the overthrow of President Nkrumah, the People National Convention's Dr. Edward Mahama also announced that he "intended to present a petition together with one-million signatures to back [up] his request" (Ghanaweb.com 4/28/05). Perhaps somebody ought to have reminded the PNC chief to transform his one-million signatures into veritable votes at the polls. For the most fitting tribute that these self-proclaimed Nkrumahists could pay their patriarch is to deliver palpable parliamentary seats in his name. This, of course, is not to gainsay the symbolic significance of institutionalizing an "Nkrumah Day." After all, was it not only yesterday that the National Democratic Congress (NDC) had June 4th canonized as their "Butcher's Day" commemoration? And yet, during the twenty years that these NATIONAL DECAPITATORS held their countrymen and women by the throat, almost every single achievement registered by the original CPP was either destroyed or neglected or simply allowed to go to the proverbial dogs by the NDC. Thus, it came as absolutely no surprise when some fellow countrymen and women told this writer that they considered the greatest achievement of the New Patriotic Party (NPP) to have been the latter's ability to promptly proscribe the odious and orgiastic celebration of the so-called June 4th, 1979 Revolution. There are quite a few hurdles which Dr. Mahama's petition is likely to encounter, not the least of which remains the fact of the woeful inability of the Nkrumahists to trounce the so-called National Democratic Congress (NDC) at the polls and in parliament. Thus, it cannot be overemphasized that the PNC/CPP need to immediately get their proverbial act together or promptly kiss their petition good-bye, so long! Secondly, it ought to be clear to the PNC/CPP camp by now that the ruling NPP does not share the same level of ideological, emotional and political capital which the institutionalization of an "Nkrumah Day" is likely to accrue. And it is quite plausible to fathom that were the PNC/CPP the ruling party, it would be highly unlikely, if not outright impossible, to get these ardent Nkrumahists to subscribe to the institutionalization of a "Danquah-Busia Day." And the dissenters, no doubt, would have come out with a million reasons why a "Danquah-Busia Day" is not worthy of a parliamentary debate. As it stands, it is almost as if the PNC/CPP is asking the ruling NPP to readily commit political suicide, a highly unlikely scenario.
Indeed, the last time that I was in Ghana (January 2002), I visited the Kwame Nkrumah Mausoleum and asked permission of the tourist guide – a fine, young graduate of Legon – to place my two palms on the Osagyefo's tomb. The permission was graciously granted, and I offered a minute's silence in prayer, after which I was conducted on a tour around. Needless to say, the KNM is arguably the greatest achievement of the patently anti-human, populist National Democratic Congress. But the fact that it took almost two decades for common sense to prevail in order to erect the KNM also roundly negates this achievement. Of course, those of us avid watchers of the Ghanaian political landscape vividly understood the "expediency factor" behind the construction of the Kwame Nkrumah Mausoleum.
In the final analysis, however, what may be aptly called for is the more inclusive institutionalization of a "BIG-SIX DAY" or even a "PIONEERS' DAY," just like the "PRESIDENTS' DAY" here in the United States of America. For already, there are too many public holidays; likewise, too many pioneering Ghanaians contributed to the auspicious foundation and development of our country. And, needless to say, were he still corporeally with us, Dr. Nkrumah himself would have promptly admitted of the fact that the foundation and development of Ghana was not the handiwork of one man. Indeed, the vacuous days of personality cults are far behind us; wake up, Dr. Mahama! *Kwame Okoampa-Ahoofe, Jr., Ph.D., is on a Sabbatical Leave from Nassau Community College of the State University of New York, Garden City, where he teaches English and Journalism. He is the author of SOUNDS OF SIRENS: ESSAYS IN AFRICAN POLITICS & CULTURE (iUniverse.com, 2004). Views expressed by the author(s) do not necessarily reflect those of GhanaHomePage.