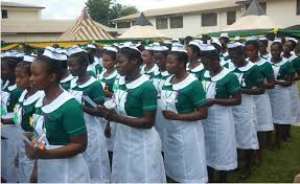 It is impossible for life to wrestle anything from the hands of death, so said our forefathers. What they said since the foundations of the earth still stands true until today. Once you are in the firm grips of the icy hands of death, that callous and fearful creature, the tormentor of human beings, you are done. No matter what you do, it will bundle you into its palanquin and carry you away. It has no pity for its victims!
One of the wickedly dismissed or demoted students of Mampong Nursing and Midwifery Training College, now referred to as the "affected" students, has bidden farewell to her colleagues about four days ago. She's gone to the land of the departed souls to return no more.
It is so sad that she has succumbed to whatever illness that attacked her without being able to recover to witness the ultimate outcome of their fight for justice.
She had been either demoted or dismissed from the school for no proper reason, the details of which anyone minded to know the truth can read from my previous publications on the school in relation to the "affected" students.
Could her health condition not have been made worse by worries over the truncation of her professional nursing career when the principal of the school unprofessionally dismissed or demoted her along with other colleagues?
How I hope her colleagues will attend her funeral to give her their last respect and a befitting send-off. Although unknown to me, I am touched by her sudden departure.
From the information placed on WhatsApp by her student colleagues, she is one Winnifred Kyerewaah Donkor aka Moesha.
Her funeral comes on at Kumasi-Atonsu Agogo at the Monaco Junction, on Saturday,16 July 2022.
I hope the principal will select some teachers to attend her funeral.
My condolences to her bereaved family and colleagues. May her soul rest in perfect peace.
Rockson Adofo
Thursday, 30 June 2022