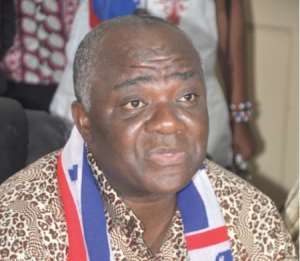 Francis Addai -Nimoh
Aspiring New Patriotic Party (NPP) flagbearer, Francis Addai -Nimoh popularly known as Fan has said it is possible for the ruling New Patriotic Party to break the eight with a new face.
He said the party should not even dream of presenting President Dr Mahmoud Bawumia as flagbearer.
Speaking in an interview with DJ Ohemaa Woyeje on Angel FM's Y'adwumanie show, the staunch member of the NPP mentioned three factors that would help the governing NPP 'break the eight.'
During the interview, he explained that 'breaking the 8' is a record that no party has been able to achieve with an "old face."
According to him, people get tired of constantly seeing the same face.
He cited the late President Prof. John Evans Attah-Mills' era and the fact that NDC was not able to 'break the 8' then because people were tired of him as he had served as the Vice-President prior to his emergence as the National Democratic Candidate for the 2000 general elections.
He emphasized the fact that the incumbent President Nana Addo-Dankwa Akufo-Addo could not help the NPP to 'break the 8' was because he was also serving key positions in H.E John Agyekum Kufour's regime.
''If you check our history, no one within the incumbent government machinery from both parties has been able to help their party to break the 8," he stated.
Mr. Addai-Nimoh stressed that 'breaking the 8' also requires unity in the party.