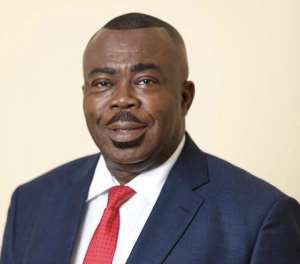 Stephen Asamoah Boateng, Asabee
Mr. Stephen Asamoah Boateng, popularly known as Asabee, a national chairman aspirant in the upcoming NPP national executive elections, has predicted that if he is given the mandate, he will win 170 of the 275 Parliamentary seats for the party.
On Sunday, June 26, 2022, during an interview with Emefa Apau on Accra-based JoyNews, which was monitored by Modernghana News, Asabee revealed that he will snatch parliamentary seats from the opposition NDC including Banda, Sene West and Pusiga, where NDC won with slim margins.
"The NDC won 51 seats with less than three thousand votes. I am targeting all of them. One of them is Sene West where they won with 16, we should overturn it so I am targeting it. Another is Pusiga, they won with 63, I am targeting it and Banda so I have a clear idea of what to do to win power.
"I am targeting 170 seats in Parliament. In fact, four in Volta Region and four in Oti," he noted.
Mr. Asamoah Boateng further intimated that he is the only candidate among his contenders who knows the strength and weakness of their arch-rivals, the NDC.
Asabee believes no one should have contested him. He said he is the best candidate for the job because of his relationship and experience with the grassroots of the party.
"The final one is that I know the NDC better. My colleagues have said to them that they should have let me go and they should not have competed. I have told them, I am a field commander and an organiser in a way, so I am going to be a chairman-organiser combined," he said.