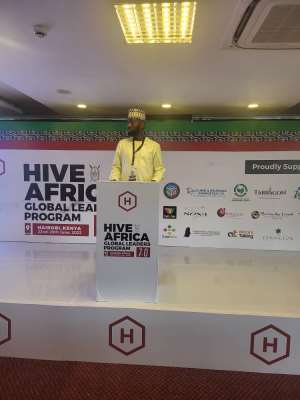 The Group Chairman of the Afro Arab Group of Companies Ambassador Alhaji Salamu Amadu has said Africa must not be begging for aid having over 840,000,000 energetic youth under 25 years.
Ambassador Alhaji Salamu believes His Excellency President Nana Addo's dream of Ghana beyond aid should include Africa beyond aid.
Speaking at the HIVE AFRICA Global Leaders Program at the Golden Tulip Westland Hotel, Nairobi, Kenya on the 22nd of June, 2022, Ambassador Salamu noted that it is time for the leaders of Africa to wake up from their sleep and do something for the youth on the African continent by giving them the opportunity to bring ideas to governing African nations.
"I don't believe why we are not there where we have over 840,000,000 youth under the age of 25 years which is more than the entire population of the continent of Europe, North America, Australia/Oceania, South America and Antarctica, human resources is everything human resources is a game-changer," he stated.
According to him, Africa should have been competing with the Asian tigers using all the natural resources the African continent has been blessed with.
"I think is Asia, China that we should be competing with, aside all the resources that we are blessed with human resources alone should be our weapons of mass destruction" he stated.
He added that even though Ghana is a special country he loves Nigeria. He indicated that Africa is the best place to live.
"Ghana is a special country, I love Nigeria and Africa is the place to live", he emphasised.