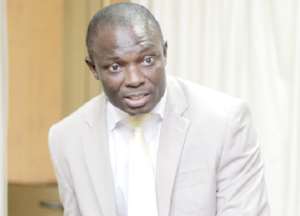 The Chairman of the Parliament Select Committee on Finance, Kwaku Kwarteng has stated that it was unnecessary to have dragged the Finance Minister to parliament to account for the covid-19 expenditure.
He said most of the information presented yesterday had already been shared by Ken Ofori Atta.
Speaking on 'the AM show' on Joy News today, he noted that there are auditing institutions that could look into expenditure.
"I don't think the Finance Minister should have been in parliament to answer this in the first place. I think it was very unnecessary. Most of the answers had been already provided and are in the public domain and therefore I did not find the need. Covid is not the only expenditure we had in 2020 and 2021. There are institutional arrangements for auditing expenditures. This request by the minority, which was granted by the speaker that the Finance Minister should come and account; he could not have brought receipts because the finance ministry itself did not spend the monies. The monies were spent by various agencies, various MMDAs as indicated in the Ministers statement," he expressed.
According to him, asking the sector minister to account for how the monies were spent would mean going round MMDAs to request every single receipt on monies spent which is obviously the work of auditors.
"If you want to look at how the monies were spent and whether they were spent right and you ask the Minister to come to parliament and you probably were going to ask him if he did a good job, he has to go round all the MMDAs and collect the receipts, the check transfers, the bank accounts because when the auditors go to the MMDAs, they don't just audit receipts they also audit movement of money," he explained.
The Minister for Finance, Ken Ofori-Atta yesterday, was in parliament after he was dragged by the Minority to account for the COVID-19 expenditure.