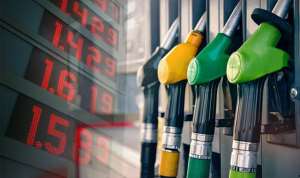 The National Petroleum Authority (NPA) has debunked claims that taxes and levies on petroleum products hugely account for the surge in the prices of fuel as being speculated by a section of the public.
"The taxes in the price of fuel is not 40% or 30% as it's being speculated out there. On Petrol, it is 19%, on diesel, it is 15% but then people are saying that there's about 40% tax on petrol that's why the price is high.
"The total taxes and levies put together is GHS 2.28p. What is the price of diesel? It is about GHS 12.00. What is the percentage of GHS 2.28p on GHS 12.00? Is it 40%, is it 30%? What is the percentage of GHS 2.43p on the price of petrol which is GHS 10.10p? Is it 40% or 30% as it is being speculated?"
Ibrahim Abass Tasunti, Head of Economic Regulation at NPA, was addressing the media in Sunyani last weekend as part of measures to deepen understanding of the price build-up of petroleum products and the mandate of the NPA.
The NPA is embarking on a nationwide awareness creation exercise to open up to the public through the media to promote transparency in its work and ensure that consumers are well educated to understand what influences price changes.
Mr. Tasunti believes that if consumers are well informed about what goes into the price build-up of petroleum products, "it doesn't matter what anybody tells them, they would not be deceived."
He refuted the claim that fuel prices in Ghana are the highest in the sub-region, saying "there are countries in the sub-region who are selling at a higher price than us – both petrol and diesel – and there are countries who are also selling lower than us. For most of the countries selling lower than us, it is not because they're not affected by the happenings in the world market, it is because they're subsidizing the prices for their consumers."
He added that the argument that Ghana is an oil producing country and fuel prices must necessarily be cheaper is quite erroneous.
"Ghana produces averagely about 150,000 barrels of crude oil a day. Now, the government of Ghana gets about 18% of that, which translates into about 27, 000 barrels a day…. In total, we consume about 96,000 barrels of petroleum products a day. So, we produce 150,000 and consume 96,000 so if you look at it you can say that Ghana is a net exporter of petroleum products but remember that we don't own all the 150,000 barrels. We own only 27,000 barrels.
"So the fact that we produce crude oil in Ghana does not mean that our prices have to be cheaper. It's the decision of the government if it's making enough revenue from crude oil exports to decide whether it wants to reduce taxes or subsidize for the consumer but the formula will work as it is," Mr. Tasunti.
For his part, the Head of Quality Assurance of NPA, Ubeidalah Saeed Kutia, said his outfit undertakes regular monitoring of the over 4,000 retail outlets in the country to ensure that quality petroleum products are sold on the market.
In this regard, he explained that markings are done from time to time to authenticate the quality of fuel being sold to the public.