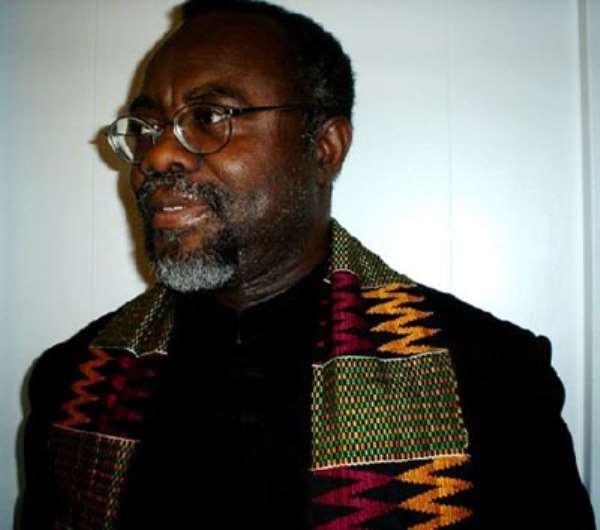 And so Nii Ataa Ayi Rawlings was up at it again recently. The perpetual teenager actually had the temerity to drum major the recent protest against price hikes by the placid and staid Kufuor administration. And on March 25, 2005, the media outlet Lens had an article posted on Ghanaweb.com titled rather quaintly "Kufuor Has Touched Me – Rawlings."
The humor inhered in the egregious pretense of the sanguinary Chairman Jeremiah (Jerry) John Rawlings to some modicum of sentience. In sum, the man who murdered justice – both metaphorically and corporeally, even as Shakespeare's Macbeth murdered death – in Ghana was glibly grandstanding to his Lens interviewer that the Kufuor administration's admittedly exorbitant hike in commodities and services had, somehow, touched a nerve somewhere inside this cold-blooded killer.
Some time ago, a good friend of mine joked to a few of us – some colleagues visiting with my family – that Mr. Rawlings epitomized the rarefied essence of the metallic; and that whereas the rest of mankind might, indeed, have been molded out of clay, or the Biblical dust and ashes, by Providence, "Mr. Probity and Accountability" appeared to have been definitely molded, the friend actually used the verbal "constructed," out of steel and bronze. And so when he claims to have been "touched" by President Kufuor, it is just not clear what he means.
But, perhaps, what more than flabbergasted those of us who have been studiously observing the Ghanaian political landscape, during the course of the last two decades, was Mr. Kwesi Pratt's decision, under the amorphous and protean guise of something called the Committee for Joint Action (CJA), to throw his weight – and with it his lot – behind Mr. Rawlings. During the early 1990s, I delightfully watched Mr. Pratt, then-dean of rising Ghanaian political asteroids, make short work of the cynical likes of Professor Kofi Awoonor and Dr. Obed Asamoah.
And so on the day of the so-called WAHALA, it was quite tragic to discover that Braa Panyin Kwesi Pratt had become a virtual clone of his arch-nemeses of yesteryear. It has, of course, been observed for eons, now, that politics makes for strange bedfellows. And while I have no partisan opinion on the question of just whom one decides to shack up – or go to bed – with, anyone who witnessed the dead-on witty politics of Braa Kwesi is bound to wonder whether the sometime conscience of Ghanaian youth has lately undergone some soul-exorcising lobotomy of some bizarre sort, as to make our brother stoop so curiously lowly enough for Flt.-Lt. Ataa Ayi Rawlings to confer a mock-doctorate on him. We understand the hip-shooting Mr. Kofi Wayo was also among this pathetic orchestra of impudent charlatans; but since the latter appears to be a Johnny-come-lately, we shall defer his sorry-ass politics for future reference.
In anycase, when Chairman Ataa Ayi Rawlings asserts audaciously that: "Some insults are false, [and] some are true" and that "We [members of the National Decapitators Congress of Terrorists] do not hurl insults. They [the NPP] are the ones known to hurl false insults at us. Whatever we say about them is the truth. If I call them thieves and murderers, it is not meant to be an insult but an expression of the truth," it is not quite clear whether the man has ever heard of such names as I. K. Acheampong, F. W. K. Akuffo, Yaw Boakye, Utuka, Felli, Odartey-Wellington and Sam Acquah. And we may also add to the latter Osofo Asare, Cecilia Koranteng-Addow, Agyepong and Sarkodie. Even former Army chief-of-staff Brigadier Nunoo-Mensah is firmly convinced that the so-called December 31, 1981 Revolution was anything but a revolution; and here, it bears speaking in plain words to this vacuous parakeet that December 31, 1981, was indeflectibly and indefeasibly and indelibly about ETHNIC CLEANSING.
And so when the elder Ataa Ayi gleefully endorses placards reading DOWN WITH NPP TRIBALISM, only an intellectual toddler would pretend not to have ever heard of the Tsikatas. Interestingly in 1995, during Ghana's independence anniversary celebration, I was invited to keynote one such fiesta by the Indianapolis Ghanaian community of the State of Indiana, here in the United States. The theme of my presentation was: "Ghana's Independence: A New Meaning." The paper recapitulated the virtual developmental stasis and reign of terror visited on a largely polite, mild-mannered and unsuspecting Ghanaian citizenry by Nii Ataa Ayi Rawlings. I must have touched on some raw nerves, for during the course of my presentation, a rather boorish and overweight, porcine-looking guy interrupted me by snatching the microphone and imperiously announcing his name and presence as "Mr. Gadzekpo, cousin of Captain Kojo Tsikata, Ghana's national security advisor." I promptly yanked back the microphone, asked him to go back to the High Heavens – or wherever he was born – and leave the rest of us in peace. This was after Mr. Gadzekpo had fatuously insisted that Ghana's terror-charged 1995 political climate was more liberal and peaceful than that which prevailed here in the United States. I also gave Mr. Gadzekpo my Ghanaian address, perchance he wanted his mercenary and murderous cousin to put me on Ataa Ayi Senior's radar screen so that I could provide psychiatric consultation to these miserable and horrid pack.
Indeed, a man who once told the international community, in the infamous wake of the summary execution of playwright and human rights activist Ken Saro Wiwa, as well as other equally significant activists, that Gen. Sani Abacha was the best premier Nigeria ever had, could hardly be deemed to possess adequate moral capital, or credibility, to address a rally during which such idiotic placards as KUFUOR, EYADEMA, MOBUTU NO DIFFERENCE and FREEDOM FROM NPP AUTHORITARIAN RULE were being retailed to the larger Ghanaian public. Indeed, if Ataa Ayi Rawlings had good eyes in his head, he would have promptly fled the scene once placards reading DOWN WITH POLITICAL TERRORISM, THE POOR BETRAYED, and WHERE ARE OUR MEN OF GOD? flashed over his puffy cheeks – and I quite remember when this scrawny and famished Akpeteshie-guzzling and sugar cane-chomping skeleton of a pseudo-revolutionary hijacked Ghanaian democracy.
And the sad reality is that today most of his barely literate and cognitively dissonant flunkies blandly talk about "Men of God," puerilely forgetting that just yesterday, when Jeremiah Ataa Ayi Rawlings misruled the roost, Christian evangelism was prohibited on both Ghanaian radio and television. Remember the morally edifying GBC-2 program "The Hour of Visitation"? What happened to it when Flt.-Lt. Ataa Ayi Rawlings shot and burglarized his way into the hitherto august Osu Castle?
And when one placard reads KUFUOR GHANAIANS ARE NOT FOOLS, you begin to wonder what all those veritable fools were thinking in braving the torrid temperature just to hear the weed-addled, UDS-Doctorate Manque do karaoke before them, with another sign ironically reading: NPP IS INSULTING OUR INTELLIGENCE. I wish the bearer of the preceding had any gumption to showcase before his audience.
In his farcical interview with Lens, Chairman Ataa Ayi Rawlings also drools: "He [President Kufuor] touches my soul anytime innocent people are persecuted and tried and jailed as they did to Peprah and Co. and are planning to do with a few more people who served in the NDC government. They are preparing to jail some more innocent NDC people as part of their politics of attrition against us." Perhaps Ataa Ayi ought to be tutored on just what constitutes "politics of attrition." Needless to say, politics of attrition is when a cowardly premier carries pistols inside his shoes to cabinet meetings and pistol-whips those who are intelligent enough to call him out on his ineffable foolery; and who said "politics of attrition" has nothing, whatsoever, to do with a pathological "culture of silence"? In sum, when Senior Ataa Ayi speaks of "Populism," it is precisely the preceding that he is alluding to. And while, indeed, the brutal murder of Alhaji Issa Mobilla cannot be wished away, so could the legions of poor and innocent Accra women over whose ritual murders this professional terrorist presided.
Ataa Ayi also claims, rather hilariously, that President Kufuor has run the Ghanaian Air Force aground. Of course, what anybody who has studiously followed the former's twisted logic comes up with is simply that Ataa Ayi Rawlings has been banished from mischievously using taxpayers' jet-fighters as personal toys for himself and his children. And when the Lens' interviewer asks his readers to "look out for President Rawlings' take on the Togolese political situation" in the paper's next issue, the well-meaning Ghanaian can only logically riposte: "I am not holding my breath!" For what insight could an Eyadema-clone possibly provide us about his sibling that we already have no clue about? And then to read of the killer of Ghanaian capitalist entrepreneurialship purchasing huge tracts of real estate in Akwamufie makes one sick to the stomach. One thing, though, is clear: when Jeremiah Ataa Ayi Rawlings decries a purported NPP "politics of attrition against us [the NDC]," His Excellency had better take a cue and promptly put this professional terrorist and honorary doctoral degree-manque where he belongs – in jail! *Kwame Okoampa-Ahoofe, Jr., Ph.D., is on a Sabbatical Leave from Nassau Community College of the State University of New York, Garden City, where he teaches English and Journalism. He is also the author of ten volumes of poetry and prose, including the forthcoming rejoinder on the role of continental Africans in the Transatlantic Slave Trade titled THE NEW SCAPEGOATS: COLORED-ON-BLACK RACISM (iUniverse.com).