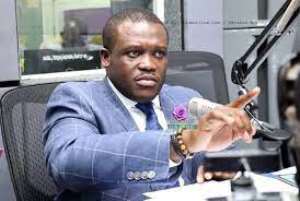 Member of Parliament (MP) for Ningo-Prampram, Samuel Nartey George has blamed the constant fuel hikes and general high cost of living in Ghana to the depreciation of the cedi.
According to him, much as global set backs are influencing situations in Ghana, it is not the cause of the constant hikes and general hardship in the country.
Sharing his thoughts on 'Good Morning Ghana' on Accra based Metro TV on June 14, he expressed that, Ghana had oil and was exporting much of it on the international market, which was generating profits for government.
He said it was therefore surprising that those profits were not being utilised to cushion the ordinary Ghanaians who are suffering the brunt of the hikes.
"The reason the prices are going up is not world market prices. The reason fuel prices are going up at our pumps is not the Russian-Ukraine war and fuel prices; it's the depreciation of the cedi. Ghana, what was the budgeted price for the oil? Was it $55 a barrel? We are net exporter oil.
"When you take the number of crude we import and crude we export, we export more than we import. You came and did a budget of $ 55 per barrel now you say it's selling at $100 a barrel, so it means on each barrel you're making profit of $45 as a government. 90% profit, in fact excess profit so how is that not translating, how is there no pass through from that windfall to cushion me and the ordinary Ghanaian at the pump?" Sam George queried.
He noted that, even plantain, the popular 'Kofi brokeman', which was GHS1.50, had jumped to GHS3.00.
According to him, the country is not producing large quantities and as such has to import from Burkina Faso. He added that increased fares alone cannot attribute to high jump in plantain prices.
"The cost of transporting plantain cannot cause an increase in plantain from GHS1.50 to GHS3.00. It cannot be the only reason. It is simply the fact that, Ghana is not producing enough plantain and we are importing too much plantain from Burkina Faso, a country whose soil and weather is not as favorable as ours. You can't tell me that we have no right to righteous anger and indignation," he intimated.
Sam George further shared that 40% of the costs of fuel prices are taxes that goes to government. He said even though the taxes were scrapped, it was only for three months.
He believes that if those taxes were held back by the government, it would have provided so form of relief to Ghanaians.
Meanwhile, fuel prices keep going up together with prices of goods and services.