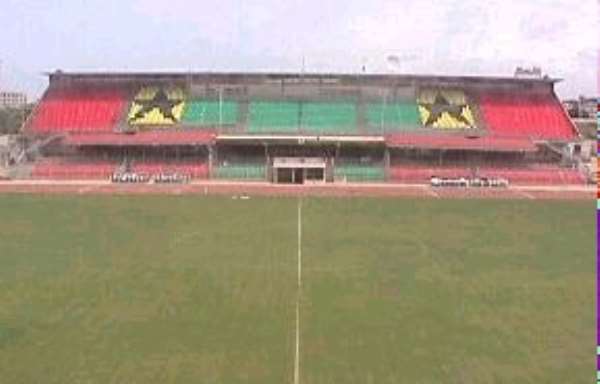 Countrymen and women, loyalists and opponents, sports enthusiasts and those who don't care, I have been keenly following the recent debate, needless as it is, over the renaming of some of the sports facilities in the country.
It all started when the National Sports Council insisted that the Accra Sports Stadium should now be called the Ohene Djan Sports Stadium. The Kaneshie Sports Complex has also been renamed and it is now known as the Azumah Nelson Sports Complex. Shortly after the names of the two facilities had been changed, a group of Ga Dangme citizens started wailing and whining about why the Accra Stadium should be named after an Ashanti. That was not all. They also complained bitterly about why the Kumasi Sports Stadium has not been renamed. The discussions of the issue appear to have ended shortly after it was speculated that the Kumasi Sports Stadium will soon be renamed after one of our best footballers ever – Baba Yara.
I didn't want to comment on this issue but I have decided to do so now because, thinking about it fills me with a sense of hopelessness – hopelessness at the fact that my people do not seem willing and ready to put aside their tribal differences and forge ahead in unity. How is it that a simple matter of renaming a sports stadium was turned into an opportunity for tribal muscle flexing? It's even more annoying because these senseless arguments over tribal superiority always start (and end) with the Ashantis and the Ga Dangmes. Why do they do it? I wish I could create an arena for the two tribes to go to war to decide which one is stronger and deserves to be respected the most. But, obviously, I can't do that. So I will caution those nutcases in the two great tribes who have been fanning these ethnocentric arguments to wise up and/or shut up before they cause catastrophic damage to national cohesion. We should not allow a small group of Ashanti and Ga Dangme citizens to push us into a conflict (verbal or violent) over such trivial matters as the renaming of dilapidated and ill-equipped sports stadia. Let's tell them to shut up and go to hell when they use the issue of tribe to support or condemn any national policy. I know that in the current atmosphere it will be considered treacherous for any well-meaning Ga citizen, for example, to stand up and tell his tribesmen that their reasons for objecting to the renaming of the Accra Sports Stadium have no basis in common sense. Just listen to what people are saying about the Fantes in the Central Region after they rationally (and very patriotically) decided that they will not vote along tribal lines. So what do we do? I know the president has to do something. I am the 'fix-it man' and I will do my best to fix this problem.
I am offering the following ideas to end the tribal bigotry. The citizens of Sikaman should understand and appreciate each other, regardless of tribe. By this I mean that we should promote cultural understanding among the tribes. It is a pity that there are millions of Sikaman citizens today who have never been exposed to any culture other than their own. For example, Ashantis do not know much about the Ga Dangmes (and vice versa), Fantes don't appreciate the culture of the Ewes (and vice versa) and the list could go on and on. Stereotypical prejudices abound though. Southerners for example think that they are more peace-loving and northerners like to resolve their differences with bows, arrows and swords. Most Sikaman citizens think that the people of the Volta Region are an "inward looking" and juju-loving bunch who will invoke the spirits to kill or maim for anything. Fantes are supposed to be "too-known" because they seize every opportunity to speak "fanglish" – a mixture of English and Fante – just to show the rest of the nation that they were the first to welcome the white man into our country. Once again, the list of stereotypes could go on and on.
Since I became the Excellent One, I have met hundreds of thousands of Sikaman citizens from different tribes – even those I never knew existed – and different villages in the farthest reaches of our motherland. I must say that all those I have met have been very nice people. If you discard the tribal prejudices and the stereotypical imagery, you will come to realize that the things which unite us are more than those which set us apart. At least, I know that we all want the best for our nation. We want our nation to grow strong and prosperous. I also know that we all know that our country is a beautiful island surrounded by an ocean of political instability. On the basis of these facts, let's forge ahead in unity. But we can only be united if we get to know each other beyond the superficial and stereotypical. I therefore suggest that we all should travel around the country. I know that most of you don't have much money to spare. But I also know that most of you like to travel to your hometowns to attend your annual tribal festivals. Instead of going to your hometown this year, why not go to a different town to observe the festivities of a different tribe. It will be such an interesting eye-opener for you and I promise, you will have a good time. I tried it several times and each occasion was enjoyable.
If, for financial reasons, you can't go to a different tribal territory, I will entreat you to start reading about the different tribes in our country – their history, their culture and their achievements. If you are an Ashanti stop reading about Okomfo Anokye and look for material on King Tackie Tawiah, for example. Ga Dangmes should also start reading about the great chiefs from the north and how the Ewes migrated from Notsie.
As we learn about each others cultures, we should bear in mind that in the current world system, tribes don't matter to anyone – unless one tribe viciously turns against another. These days, the world talks about nations and how powerful they are. You don't need me to tell you that our nation is one of the least recognized and respected in the world, even though we have some great tribes here. We need to help God to "make our nation great and strong", as our national anthem says. God is a very busy man – He has to attend to about 300 nations in the four corners of the world. He won't waste His time on a country whose people have not made up their minds as to what they want Him to do for them and are rather busy engaging in needless arguments over which tribe is the greatest. Please, think about the nation first before you open your mouth to extol the greatness (my foot) of your tribe. No tribe is greater than Sikaman.
Friend to all tribes,
J. A. Fukuor [email protected] PS: Having said all that, err, was it really necessary for the Sports Council to rename the Accra Sports Stadium and the Kaneshie Sports Complex. I don't think Ohene Djan and Azumah Nelson need their names on some dirty, decrepit sports facilities to be immortalized. They already are immortals – without the stadiums, of course.