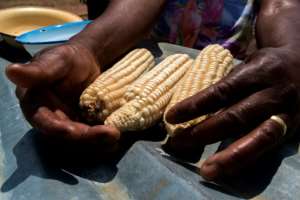 German Chancellor Olaf Scholz is on a tour of Africa. Having spoken to the President of Senegal, today Niger, and tomorrow South Africa for closer cooperation in these difficult times and the supply of natural gas, etc. out of his limousine he might have caught a glimpse of the effects of the war thousands of miles away from the African continent.
At the beginning of the war, some African countries have asked Putin to fast end the war, but not all. Some have argued that the war is a European affair, and they should solve it. Some even blamed Ukraine and its idea of independently making decisions for themselves like wanting to join NATO and the EU for the outbreak of the deadly war.
Meanwhile, it has become clear to the most narrow-minded African politicians that wars in a far land can have devastating consequences in their backyard. When prices for food and other goods and services in Africa go up rocket high unlike in the Western world the citizens cannot easily absorb the price increase. The most vulnerable of African societies feel the heat and will get burnt. This war might end by the end of 2022, but its longtime effect will last for many more years to come.
African countries do not state their grievances about the war too much depending on the Russian and Chinese support, a consequence of mismanagement by the previous and current administrations.
Half of the sunflower oil and one-third of the wheat production in the world come from Ukraine. The UN Food Programme Director during the last UN meeting pledged to Russian President Vladimir Putin to open the ports of Ukraine and let the cargo reach also Africa to avoid famine, starvation, and hardships for Millions of innocent humans.
Olaf Scholz who I knew personally from the time before he entered the German Bundestag as my local party chairman being a guest in my home is a fine and very qualified man to solve problems step by step but is following former German Chancellor Angela Merkel with no great vision of a great world. Most leaders in Europe and around the world do not have the power of vision in their DNA.
The war in Ukraine has heightened the weakness of the world as we experience it today. The world is filled with financial and technological ideas, with political brotherhood across borders while the fundamentals to bring about stability and greatness into the world to boost humanity for the new millennium are nowhere to be found.
Back to the roots is a very popular slogan in our days and even Doctors know curing the symptoms is not healing but healing the cause of the symptoms will make a patient finally get well for good. Man and humanity started in Africa, the birthplace and cradle of the Homo sapiens. This Is the best place to "discover your roots for healing and greatness, for dominion and glory"... Amen