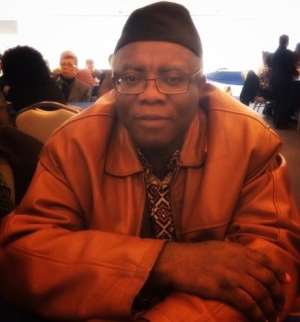 What the Deputy Foreign Affairs Minister, Mr. Kwaku Ampratwum-Sarpong, told his Asante-Mampong constituents yesterday, May 20, 2022, is only true on the surface of things and the practical reality. You see, were General Elections to be held in the country today, instead of December 2024, the ruling New Patriotic Party (NPP) could only "lose miserably" because politicians like Mr. Ampratwum-Sarpong would have criminally and miserably failed to alert their constituents and Ghanaian voters, at large, to the incontrovertible fact that there is absolutely no way that the Dumsor-wracked tenure of the previous Mahama-led government of the National Democratic Congress (NDC) could be favorably compared to both two terms of the progressive and visionary Akufo-Addo-led government of the New Patriotic Party (See " 'Red Is Red, Black Is Black' – Honest NPP-MP Admits Party Will Lose 'Miserably' If Elections Are Held Today" Modernghana.com 5/20/22).
The good news here, of course, is that elections are not being held today. And the bad news is that ruling party politicians like Mr. Ampratwum-Sarpong are way darn too superficial and cognitively underweight to effectively and constructively reckon with the critical and incontrovertible fact that globally connected economic difficulties and all, Ghanaians, for the most part, are much better off than they ever were under the four-and-half-year tenure and watch of former President John "European Airbus Payola" Dramani Mahama when, rather than haunch down and diligently dirty his hands by tackling Dumsor – that is, the perennial problem of the erratic supply of electricity or power – head-on, Ghanaian entrepreneurs were cynically and disdainfully advised to wise up and work around the rhythmless schedule of Dumsor.
Now, Kwame Gonja has been smugly traipsing the length and breadth of the country telling Ghanaian citizens and voters that he was able to effectively resolve the problem of Dumsor long before he reluctantly handed over power to the man who had defeated him by more than One-Million Votes in the 2016 Presidential Election, namely, then-Candidate Addo Dankwa Akufo-Addo. Well, the simple question to pose Kwame Gonja, as the former President is also popularly known, is tersely as follows: "Look here, Mr. Mahama, if it is really true that you successfully solved the perennial problem of Dumsor long before handing over to President-Elect Addo Dankwa Akufo-Addo, then why did you fire Dr. Kwabena Donkor, the man for whom you specially created the Power Ministry?"
You see, were he really a competent politician and not a veritable political ersatz and a craven opportunist, Mr. Ampratwum-Sarpong would be using whatever expertise or experience he may already have acquired as Deputy Foreign Minister to study how seismic and far-reaching global trends, such as the China-originated COVID-19 Pandemic and Russia's War on The Ukraine, has significantly and negatively impacted even highly advanced and industrialized economies like the United States of America, Germany, Britain and France, for only a handful of examples, and also how such negative impact was likely to even more negatively impact far less technologically and industrially advanced Third-World countries and very fragile economies like Ghana and the rest of the 14 other countries in the ECOWAS Subregion.
You see, what loud-talking and scandalously and intellectually fluffy politicians like Mr. Ampratwum-Sarpong ought to be pointing out to their constituents and the Ghanaian people at large is the fact that nearly every credible study conducted by globally and nationally reputable economists point to the fact that the leadership of the New Patriotic Party is invariably far better positioned to tackle the socioeconomic and industrial problems facing the country today than their "downsizing" demolition squad counterparts of the National Democratic Congress who, by the way, are criminally and hopelessly addicted to drawing home double salaries, even as they unconscionably and callously rob our nurse- and teacher-trainees of their age-old established professional training allowances.
Indeed, were he really a competent politician or a statesman, Mr. Ampratwum-Sarpong would also educate his constituents about the fact that a significant percentage of the problems and difficulties that the present Akufo-Addo Administration has been confronted with has entailed putting in place capital-intensive and corrective social-intervention programs and policies, such as the revival of the John Agyekum-Kufuor-created National Health Insurance Scheme (NHIS), which was completely and effectively bankrupted and literally destroyed by the John "Akonfem-Kanazoe" Dramani Mahama-led government of the National Democratic Congress. How about the infamous Bus-Branding Racket, in which a politically desperate President Mahama literally dipped both hands into the Ghanaian taxpayer's money to fund his badly flagging 2016 Presidential-Reelection Campaign. The list goes on and on and on.
And I bet that if Mr. Kwaku Ampratwum-Sarpong were a deep-thinking politician, he would rather be boldly and fiercely set on the electioneering-campaign warpath highlighting and underscoring all the morally and politically significant reasons why the Mahama-led National Democratic Congress needs to be held at bay and far off and millions of miles away from Jubilee House in the foreseeable future.
*Visit my blog at: KwameOkoampaAhoofeJr
By Kwame Okoampa-Ahoofe, Jr., PhD
English Department, SUNY-Nassau
Garden City, New York
May 21, 2022
E-mail: [email protected]