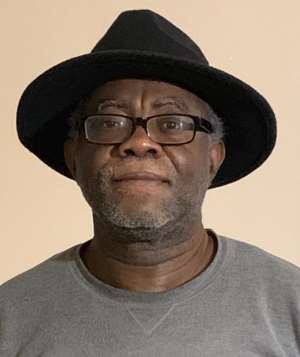 As a people, we are often too inadvisably quick to lay claim to or kinship, in this particular context, with reprobate characters whose behaviors and reputations squarely fall outside the norms of what are the generally accepted Ghanaian personality traits and identity. We are here talking about the 38-year-old British-born convicted terrorist reported to be serving 8 consecutive life sentences in the State of Virginia, right here in the United States of America, for participating in the criminal arrest, torture and murder of at least 8 American citizens savagely slain by the Mohammed Emwazi-led Islamic State of Iraq and Syria (ISIS) killer cell or platoon between 2012 and 2013 (See "Ghanaian Member of ISIS Jailed for Life in US" Ghanaweb.com 4/30/22).
The aforementioned criminal convict is officially identified as Alexander Kotey; his last name readily gives him away as Ghanaian-descended British citizen of Ga ethnic paternity. The Ga, of course, are the traditionally recognized indigenes of the Greater-Accra Region of Ghana. But looking at the portrait or the mugshot of Mr. Kotey, it well appears that the latter may also be genetically infused with some Middle-Eastern blood. He may be carrying a Ghanaian surname all right, but being classified as British-born and therefore a bona fide British citizen clearly means that the social conditions and circumstances and the environment in which he was raised, readily makes Mr. Kotey a bona fide British national and not the "Ghanaian citizen" that the Dutch proprietor of the Ghanaweb.com media portal and his editorial staff of Ghanaian employees would have the rest of the global Ghanaian community believe is the identity of this cold-blooded human-killing machine, pun intended, Dear Reader.
In short, let the Britons claim the full-credit for this godforsaken half-Arab -looking convicted terrorist, at least for just this one critical moment and time. Now, should Mr. Kotey turn out to have been mothered by a woman of Middle-Eastern descent, British citizen or not, would automatically make this godforsaken SOB decidedly an Arab-descended British citizen or national. And then maybe well down towards the end of the news story in reference, Mr. Kotey's presumably marginal or tangentially partial Ghanaian connection could also have been aptly acknowledged. You see, anybody who decides to hitch his proverbial wagon to the bloody star of the late Mr. Emwazi must also be aptly deemed to be the veritable kinsman and clansman of the latter and his ilk. After all, doesn't that jaded old maxim say that "It is birds of the same feathers that flock together"? Don't we, Ghanaians, already have too many of our own problems to unwisely think of adding more unto our pates?
Anyway, as I was saying, if Mr. Kotey's mother turns out to be of Middle-Eastern descent or nationality, and it has been forensically and authentically established that it was she who birthed and breastfed Mr. Kotey, as well as raised the latter with her own cultural values, then, of course, that definitely settles the question and matter of both the ethnicity and cultural identity of the convicted terrorist. At any rate, why have the British not been quick or eager to claim Mr. Kotey as one of their very own flesh and blood, in much the same way that the reporters and the editorial staff of Ghanaweb.com are doing? After all, the name "Kotey," which also sounds like "Quartey" and "Lartey," has an equal chance of being as British as it is Ghanaian.
I am also especially reminded of the infamous case of the three Saudi Arabian-born terror suspects who were secretly handed over to the then-President John "Guantanamo Bay" Dramani Mahama in the waning days of the historic two-term tenure of President Barack Hussein Obama for "safekeeping." Here also, like the equally infamous case of the European Airbus Payola Racket, a couple of million dollars must have changed hands, although both Mr. Mahama and the extant United States' Ambassador to Ghana had both publicly and vehemently denied, via strong protestations, and severally, that any such "palm-greasing" shenanigans had, in fact, taken place behind closed doors. But who really believes Kwame Gonja, as the Dumsor-supervising former President is also popularly known, that absolutely nothing of the strongly suspected had, indeed, transpired between Obama Administration Officials and the hopelessly bribe-addicted operatives of the Mahama Flagstaff House?
But, of course, that is not really the point or discursive angle of what prompted yours truly to draw in the equally sinister story of the three Saudi-born terror suspects who had been kept at the United States' Military Base on Cuba's Guantanamo Bay for close to a dozen years. What I especially want to highlight here, more than anything else, is the volcanic vehemence with which the Saudi authorities denied that the three Saudi-born terrorism suspects were either of Saudi descent or nationality. The fact of the matter was that these three terror suspects had, indeed, been born in the Saudi capital of Riyadh all right, or maybe some of the other equally significant cities and urban communities. But we were sternly told, actually warned, by the Saudi authorities that all three terror suspects were of Yemeni descent. In this particular instance, Ghanaians have an even stronger justification to promptly and roundly disown Mr. Kotey, which is that the latter subject of this column had neither been born in Ghana nor been known to have lived in Ghana for any remarkable temporal span.
*Visit my blog at: KwameOkoampaAhoofeJr
By Kwame Okoampa-Ahoofe, Jr., PhD
English Department, SUNY-Nassau
Garden City, New York
May 15, 2022
E-mail: [email protected]