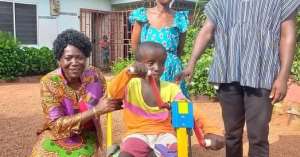 The Member of Parliament for Kpando Constituency, Della Sowah has supported a young disabled orphan at Missahoe Orphanage at Kpando.
The MP met young Richmond when she joined Miss Tourism Ghana to put smiles on the faces of orphans at Missahoe Orphanage in Kpando recently on Mother's Day.
She noticed that little Richmond, who is living with a disability, needed urgent help.
For these reasons, she made a promise and returned to the Orphanage to present him with a Pet Wheelchair.
The Anglican Father of Kpando Rev. Father Mireku who is the Chairman of the Kpando Council of Churches was there to bless the chair and the boy.
Della Sowah noted that her next task is to raise funds for him to undergo surgery to deal with fluid in his head, a urinal leakage problem and a large tumour on his back.
She commended the staff of Missahoe staff for their commitment and urged them all and sundry to come together to put more smiles on his face.