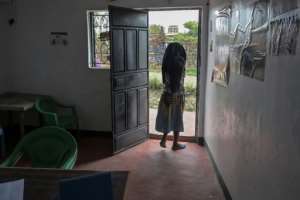 Techiman (BE/R) May 19 - Aborting of the unwanted human fetus is mostly done within women through legal or illegal means which is termed safe or unsafe abortion. When done in a safe way it is termed comprehensive abortion indicating that the process has gone through the hands of a certified medical professional been permitted by law.
Abortion is the loss of pregnancy before the fetus is capable of extra-uterine life within 28 weeks in Ghana.
On the other hand, it becomes unsafe and illegal when the process of conduct goes through the hands of an uncertified person with unprofessional environment using all sort of dangerous methods to perform the act that is not permitted by law.
A percentage of women from the past and present times have lost their lives or been affected by some forms of disabilities and this has become a worry to society since it continues to loss its members through this human phenomenon.
Furthermore most women die through this canker and either leave society in pain since that member was or could be a resource to most members of society; women who die through the canker are either mothers of other children, wives of husbands and daughters of fathers across society.
Statistics on the Consequences of unsafe abortion globally indicates that 47,000 related deaths, 5 million women with disabilities and 220,000 children motherless are affected.
Records from the Public Health Directorate of the Ghana Health Service in the Bono East Region indicates, between 2015 and 2019, on average of 73.3 million induced (safe and unsafe) abortions are occurred out worldwide each year, based on data from 2010–2014, approximately 45% of all abortions worldwide were unsafe.
It is estimated that of all unsafe abortions, one third were performed under the least safe conditions, thus by untrained persons using dangerous and invasive methods. Statistics again explained that, in Latin American and Africa, the majority (approximately 3 out of 4) of all abortions are unsafe.
Each year between 4.7% – 13.2% of maternal deaths can be attributed to unsafe abortion. In developed regions, it is estimated that 30 women die for every 100 000 unsafe abortions, the number rises to 220 deaths per 10 000 unsafe abortions in developing regions and 520 deaths per 100 000 unsafe abortions in sub-Saharan Africa.
In Africa, nearly half of all abortions happen in the least safe circumstances. Moreover, mortality from unsafe abortion disproportionately affects women in Africa.
In pursuit to fight unsafe or illegal abortions in Ghana, the country has in its framework instituted a law indicating that "Abortion is a criminal offence pursuant to Act 29, section 58 of the Criminal code of 1960, amended by PNDCL 102 of 1985".
In otherwise, It is not an offense under section (1) if an abortion or miscarriage is caused in any of the following circumstances by a registered medical practitioner specializing in Gynaecology or any other registered medical practitioner in a government hospital or a private hospital or clinic registered under the Private Hospital and Maternity Home Act, 1958 (No. 9) or in a place approved for the purpose by legislative instrument made by the Minister of Health.
More also, the law has stated that where pregnancy is the result of rape or defilement of a female idiot or incest and the abortion or miscarriage is requested by the victim or her next of kin or the person in loco parentis, if she lacks the capacity to make such request.
In addition, where the continuance of the pregnancy would involve risk to the life of the pregnant woman or injury to her physical or mental health and such a woman consents to it or if she lacks the capacity to give such consent it is given on her behalf by her next of kin or the person in loco parentis;
Again where there is substantial risk that if the child were born it may suffer from or later develop a serious physical abnormality or disease.
In addressing the phenomenon, the Ministry of Health (MOH) and Ghana Health Service (GHS) have regularly convened Non-governmental Organizations (NGOs), United Nations agencies (UN), and medical societies to develop and update guidelines for preventing and managing unsafe abortions.
This facilitated the provision of a package of services called Comprehensive Abortion Care (CAC) to reduce unwanted pregnancy and abortion‐related maternal morbidity and mortality
After more than a decade of STBF support, it became necessary for a policy shift towards a fully government led effort in leading the "crusade" for comprehensive abortion care.
This is to ensure that best practices from the "R3M era" are scaled up and replicated in other regions especially the newly created six regions under the leadership of the Director General and the technical direction of the Family Health Division.
In the crusade to fight the menace, the MOH and the GHS has focused at promoting well-integrated Comprehensive Abortion Care services within the existing wider sexual and reproductive health (SRH) services at all levels of the healthcare system.
Speaking to Dr Paulina Appiah Deputy Director of Public Health in the Bono East Region at a day stakeholder's engagement on abortion related maternal morbidity and mortality in an interview with the Ghana News Agency (GNA) at Techiman the Bono East Regional capital expressed worry over alarming rate of unsafe abortions in the middle belt of the country and that measures including, Key documents guiding the provision of CAC in Ghana, Comprehensive Abortion Care Services Standards and Protocols (2021),National Safe Motherhood Protocols (2015) and the National Reproductive Health Services Policy (2014) would be strictly implemented and enforced to reduce the menace.
She explained that in Ghana the estimated rate of abortion varies from zone to zone and in the middle zone alone over 51 unsafe abortions has been recorded, northern, 24, and the coastal zone 45
Dr Appiah noted that to achieve this there would be an efficient system for the provision of SRH services as an integral part of the health system with continuous availability of quality SRH services including comprehensive abortion care nationwide and with equitable services designed to meet the unique needs of all categories of the Ghanaian population, using a life cycle approach.
Dr Appiah indicated that abortion-related maternal mortality is one of the biggest neglected tragedies and most of these deaths are preventable if there is an affirmative action taken and show more compassion.
"Provide safe abortion care and Utilize quality improvement methods and usage of supportive supervision to spearhead quality in the region, launch of zero tolerance for maternal deaths campaign and Conduct data quality assessment visits to selected facilities would be a move to address the issue", she stated.
Madam Salamatu Wuni Focal person for the Comprehensive Abortion Care (CAC) of the Ghana Health Service in the Bono East Region noted that the move is aimed at improve access to sustainable quality comprehensive abortion care services and contribute to the reduction of maternal mortality across the country.
Madam Wuni explained that it would objectively promote institutionalize comprehensive abortion care services as permitted by Ghana's law at all levels including linkages with the private sector safe abortion providers.
She it would additionally support the government to significantly address these challenges, the Reducing Maternal Morbidity and Mortality (R3M) Program was initiated in Ghana in 2006 with support from the Susan Thompson Buffett Foundation (STBF).
In conclusion health is paramount and serve as the backbone for the human resource, however to achieve the Sustainable Development Goal 3, which projects good health and well-being of the people, stakeholders must devote much attention to Comprehensive Abortion Care (CAC) which plays a key role in performing safe abortion that would heal the headache of unsafe abortion for the Ghana Health service.