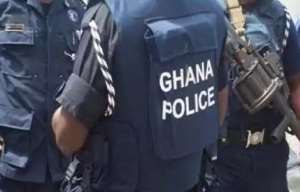 In the Stone age, security was a matter of muscles and intimidating physique. Fast forward to this modern era, security has become more scientific and has more to do with intelligence rather than physique. A person who is providing security for a group of people must be smarter, wiser and more intelligent than the person seeking to harm the people.
Without attempting to undermine the Service, we dare to ask how many out of a random sample of 10 police personnel in Ghana seated for an IQ test or proper aptitude test could possibly pass the exam?
Today in Ghana, policing seems to have become a job for people who couldn't perform well in SHS. Policing has become a "thank you" gift for political goro boys who help politicians get into power. The Service is losing its integrity of service.
You would bear me out that once admissions are opened in the security services, a tall protocol list is drawn from political pockets. All of which must be satisfied regardless of the intelligence they have to take over the security of others.
Sometimes you come into contact with some supposed police personnel and there is nothing "security " about them. Some even need security more than the civilian needs.
Policing, I know, has to do with enforcing law, fighting crime, protecting lives and properties, etc. How well do our police men and women know the laws they have been employed to enforce? How well do they even know the laws that govern their work?
When I heard that police training takes six (6) months, I was very scared for my life. Already, people who are mostly shortlisted are either politically motivated or intellectually bankrupt to wear the uniform or even carry a gun.
How can one who doesn't know the law enforce the law?
How can someone who is not intelligent protect me and my properties from a smart enemy?
If we elevate Policing to a minimum requirement of a degree or better still, set up a program in our technical universities or universities to purely train and teach modern Policing, we would have more smarter and refined police personnel.
What can one learn within six months to certify him or her to provide security for lives and properties? No wonder some of them wear uniforms to settle personal scores.
Police personnel, like other professions, must be schooled properly, examined properly and certified or licensed properly.
Enough of the muscles and intimidating physique. We need smarter and Intelligent officers. Ghana is decades behind the world in policing. Ghana Police Service is becoming more a curse than a blessing. Ah!