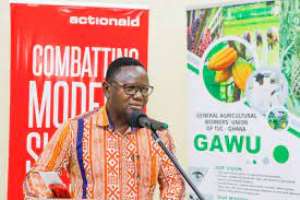 Mr. Edward T. Kareweh, GAWU General Secretary
The General Agricultural Workers Union (GAWU) of the Ghana Trade Union Congress (TUC) says it is too early to attribute the current shortage of food to the Russia-Ukraine war.
It noted that the agricultural sector is yet to experience the impact of the war.
GAWU explained in a media interaction monitored by the Communication for Development and Advocacy Consult (CDA Consult) in Tema that before the onset of the war food prices in the country were already high so it would have taken time for the effect of the war to manifest in Ghana.
Mr. Edward T. Kareweh, GAWU General Secretary said the food shortage associated with the high prices of foodstuffs is the result of low output last year, which affected the availability of food adding food production this year is much less.
"The irony of it was that, while all these imminent challenges were there for us to see, which was to constrain agriculture output for 2021 other communicators gave the wrong sense of hope that should expect a bumper harvest.
"The challenges on the ground did not point to the fact that we will be able to produce as much as we did for 2020," Mr Kareweh stated.
The GAWU General Secretary said indeed at the end of last year, during the harvest period for both Northern and Southern zones, output was low "and from January to February this year, there was not enough food in the system".
He noted that external factors become potent and have negative effects when the internal system was not strong enough to withstand the effects of the external shocks, "what we are now experiencing from the war will make the current situation exacerbate, thus it will turn the current situation into the worse condition".
Mr. Kareweh said that the Russian-Ukraine war was now only beginning to manifest itself in the agricultural sector and it will exist until the war is over and beyond stabilization "here we are, we don't even know when the war will end."
He said the cedi depreciation was an internal development that although has an international bearing, could be controlled from within and urged the government to immediately design policies to invest in the agricultural sector.