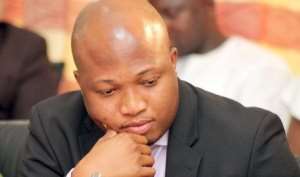 We need to always remember that even the late President Jeremiah "Jerry" John Rawlings, the globally acclaimed Founding-Father of the National Democratic Congress (NDC), did not have any regard for political opportunists and upstarts like Mr. Samuel Okudzeto-Ablakwa. He was one of the pathologically uncouth and brash youths of the party that Chairman Rawlings sarcastically castigated as "Babies with shark-like teeth" whose sole claim to notoriety or any standing in the National Democratic Congress was squarely based on the decibel-volume of vitriolic insults that they could hurl or volley at their moral and social superiors. Chairman Rawlings knew precisely what he was talking about because the Trokosi Nationalist Generalissimo had spent most of his youthful "Revolutionary Years," as leader of the blood-spilling Armed Forces Revolutionary Council (AFRC), behaving in precisely the same manner in which Mr. Ablakwa is presently behaving or, rather, grossly misbehaving. Trust me, Dear Reader, no crime or gross misconduct goes unpunished in perpetuity.
It is also nothing short of plain scandalous for a wet-eared, albeit obnoxiously snooty, political scam-artist who devoutly colluded and collaborated with former President John "European Airbus Payola" Dramani Mahama to rig up and scam the wantonly exploited Ghanaian taxpayer and blue-collar worker with Judgment Debts to be calculating the foreign-travel expenditures of unarguably the country's most fiscally responsible Fourth-Republican President, to-date, and to presume to cavalierly lecture Ghanaian citizens on how profligate or frugal the foreign-travel expenditures of President Addo Dankwa Akufo-Addo have either redounded to the benefit or detriment of the Ghanaian taxpayer.
Now, this baby with sharp, crooked and rotten teeth would have the global Ghanaian community believe that on his most recent trip to the United States of America, Nana Akufo-Addo saved the Ghanaian taxpayer some GHȻ 3.3 million, which this inveterate Akufo-Addo detractor estimates "extra-conservatively" to be in the ballpark of some $ 442,000 (USD). Now, Dear Reader, compare the preceding to the € 5 million that then-Vice-President Mahama shamelessly and criminally extorted from the manufacturers of the European Airbus Company, and it begins to instantly sober up even the most charitable Kwame Gonja Akonfem-Kanazoe Ouagadougou Dramani Mahama Sympathizer. The indisputable fact of the matter is that any which way that any levelheaded and studious observer of the Fourth Republican Ghanaian political landscape looks at it, there is absolutely no comparison between the genius managerial efficiency and competence of President Akufo-Addo and the much younger but apparently incurable kleptocrat.
You see, Dear Reader, Mr. Ablakwa may not be honest and courageous enough to let on the plain and unvarnished truth about the fact that with former President Mahama, it is not just a simple question of how much Kwame Gonja saved the Ghanaian taxpayer per every single contract that he signed on behalf of us all, as either Vice-President to the late President John Evans Atta-Mills or as substantive President of the Sovereign Democratic Republic of Ghana. Rather, with the Bole-Bamboi native of the Akufo-Addo-created Savannah Region, it is much more about the incalculable extent to which the publicly self-confessed payola-prone Mr. Mahama had plunged the Ghanaian taxpayer into a Stygian debt crisis or a debt crisis of bottomless or incalculable proportions that had been solely and primarily incurred or contracted through the former President's heinously criminal addiction to bribery and extortion.
We also need to vividly remember that it was Mr. Okudzeto-Ablakwa, the same North-Tongu National Democratic Congress-sponsored Member of Parliament, who, in the waning days of the previous Mahama regime, called a press conference in our nation's capital of Accra, and smugly and pontifically told Ghanaians that the "auspicious" implementation of Dumsor, that is, the erratically capricious incapacity of the Mahama regime to keep the lights on for even 6 hours a day, had actually resulted in the creation of more jobs than ever at anytime in the history of Ghana's Fourth Republic. By his "generously conservative estimate" back then, that is, during the 6-month homestretch period leading up to the 2016 General Election, Mr. Ablakwa, then one of a couple of Deputy Education Ministers, looked Ghanaian citizens straight in the eye and euphorically declared that some 200,000 jobs had been created by his boss and paymaster.
Now, the foregoing figure that Mr. Ablakwa trotted out back then is very fascinating because it was about exactly the same figure of able-bodied and talented Ghanaian youths that his own Uncle Kwame Gonja had vehemently insisted could not be accommodated by the Akufo-Addo-implemented Fee-Free Senior High School System. "A Damascus Experience" indeed!
*Visit my blog at: KwameOkoampaAhoofeJr
By Kwame Okoampa-Ahoofe, Jr., PhD
English Department, SUNY-Nassau
Garden City, New York
May 6, 2022
E-mail: [email protected]