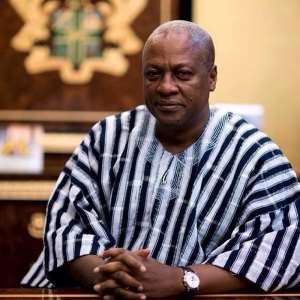 John Dramani Mahama
Former President, John Dramani Mahama has stressed that the priority for him is the National Democratic Congress (NDC) returning to power at the end of the 2024 general elections whether he is made flagbearer or not.
Just like in any political dispensation, there are people in the largest opposition party rooting for John Dramani Mahama to be made flagbearer for the next general elections and there are others that believe it is time for a new face.
Speaking to NBS TV in an interview, the leading member of the NDC has indicated that he will be honoured when given the opportunity to lead the party again into the next general elections.
He said the priority for him however is that his party must return to power when President Akufo-Addo's second term expires.
"My country has given me so much, educated me, and made me who I am. So if the party lets me stand, I will.
"The main priority is winning the election come 2024, and if the party decides that I or someone else should stand, it's all fine with me," the 2020 presidential candidate of the NDC said.
He said Ghana is in crisis and the time is due for the citizenry to boot out the ruling NPP.
According to John Dramani Mahama, Ghanaians have learned bitter lessons after listening to the sweet talks of current government officials to vote him out in the 2016 general elections.
"When someone new comes along and sways the people with sweet talk, and you are voted out, you let them learn. And Ghanaians today are learning. If you ask Ghanaians today to assess my four years as President, they will tell you there was a lot of transformation in the country, especially in the field of infrastructure," the ex-president said.
He continued, "It's been around six years so far. The country is in crisis. We are running into debt. The government has borrowed in excess of GHC270 billion, and there is nothing to show for it."