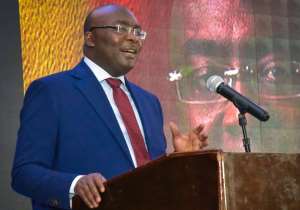 Whatever videotape is circulating "out there" on which the now-President Addo Dankwa Akufo-Addo is seen and heard "prophesying" that the next party stalwart to accede to the Presidential Nomination or Candidacy of the New Patriotic Party (NPP) will be the contender that the then-Candidate Akufo-Addo decisively defeated in the 2007 Presidential Primary of the party, namely, Mr. Alan John Kwadwo Kyerematen, will not wash in the leadup to the watershed contest that is the 2024 Presidential Election of Ghana (See "NPP Flagbearership Race: 'Alan, You Will Follow Me' – Akufo-Addo's 2007 Acceptance Speech Pops Up" Ghanaweb.com 5/16/22).
Yes, it will not wash because the real forensically authentic and valid and relevant evidence that exists for the entire global Ghanaian community to revisit or readily access and either reaffirm or repudiate is the indelible and definitive conclusion that was handed down by the immortalized Mr. Bernard Joao Da Rocha (1927-2010), popularly known as either "BJ Da Rocha" or "Joe Da Rocha," the Founding National Chairman of the New Patriotic Party. Now, as we all ought to be able to vividly recall by now, Mr. Da Rocha was selected as Chairman of the Committee of Eminent Party Leaders and Elders to resolve some grievances that Mr. Kyerematen was widely alleged to be claiming to harbor or hold against Candidate Addo Dankwa Akufo-Addo and his 2008 electioneering campaign team.
The Committee sat for about two protracted months of precious electioneering-campaign time and concluded that the putative Presidential-Candidacy Favorite of the lame-duck President John "Kofi Diawuo" Agyekum-Kufuor had rudely and literally misled the Da Rocha Group on a wild-goose chase. In short, it was all a time-wasting strategy that the Kufuor-Mpiani-Kyerematen Faction of the New Patriotic Party had tactically deployed in a coldly calculated bid to systematically vitiating the energy, enthusiasm and poise of the 2008 Akufo-Addo Presidential-Election Campaign.
But what really needs to be emphasized here more than anything else, is the fact that whatever "prophetic well-wishes" it was that Nana Akufo-Addo all but guaranteed in favor of the runner-up of the 2007 New Patriotic Party's Presidential Primary literally got chucked out through the window, when Mr. Kyerematen wrote and globally circulated his own self-willed political obituary in the form of his immediate resignation from the New Patriotic Party, with the apparent collusive complicity of Messrs. Agyekum-Kufuor and Kwadwo Mpiani. We shall soon come to the latter conclusion, when in the wake of the widely reported conflagration of the private residence of the late President Jeremiah "Jerry" John Rawlings, My Dear Good, Old Uncle Kofi Diawuo – aka Mr. Pinnacle – crassly suggested that the likely culprit behind what some characterized as a striking case of arson was the man who recently lost his second, or so, bid to becoming President of the Sovereign Democratic Republic of Ghana.
You see, those who have decided to rather strategically unwisely throw their full-heft of support behind Mr. Kyerematen, also popularly called "Alan Cash," may very well be suffering from an acute bout of cognitive dissonance, because these Kyerematen lackeys are egregiously ignoring the fact that what unquestionably differentiates an electorally defeated Mr. Kyerematen from Nana Akufo-Addo, is the fact that in 1998, when "The Little Man from Kyebi" lost his contest for the party's top-ticket nomination to "The Gentle Giant," Nana Akufo-Addo did not sigh with disdain or write and circulate any letter or press release promptly or immediately resigning his membership from and affiliation with the New Patriotic Party, or make such politically destructive declarations as "The Kyebi Mafia" or "The Akyem Mafia" being implacably and/or immitigably incompatible vis-à-vis the possibility of forging any working relationship with "The Kumasi Mafia" or "The Asante Mafia" for that matter.
Now, I am not as yet fully acquainted with the details of what might have motivated My Dear Brother Hopeson Adorye to allegedly or reportedly throw his quite considerable political ballast behind the clearly quixotic presidential-candidacy ambitions of Mr. Kyerematen, but it is becoming increasingly clear to me that somebody or a group of some New Patriotic Party stalwarts may very well have had their palms greased by the Mahama Camp and have therefore been deliriously motivated to test the limits of the possibility of the apocalyptic defeat and institutional collapse and demise of the New Patriotic Party in the fast and steadily approaching 2024 General Election. I mean, short of lunatically craving the return of Kwame Gonja and another catastrophic revisitation of a Dumsor Pandemic, one does not sincerely see how any party stalwarts or visionary and progressive strategists could think of a Kyerematen Presidential Candidacy in, of all momentous electoral cycles, the jinx-breaking 2024 Presidential Election.
You see, in 2008, when he so destructively walked away from the New Patriotic Party, Alan Cash essentially told the global Ghanaian community that he was far more important than at least a full-half of the Ghanaian electorate. Now, you really don't want to nominate a candidate who feels more important than the very political party or ideological establishment that he once felt so smug and comfortable to cavalierly walk away from barely a dozen and two years ago because, as a self-baptized and self-ordained King Solomon of the New Patriotic Party, Alan Cash had not been selected as a Presidential Candidate or Nominee over everybody else to lead the party. Or do you?
*Visit my blog at: KwameOkoampaAhoofeJr
By Kwame Okoampa-Ahoofe, Jr., PhD
English Department, SUNY-Nassau
Garden City, New York
May 16, 2022
E-mail: [email protected]