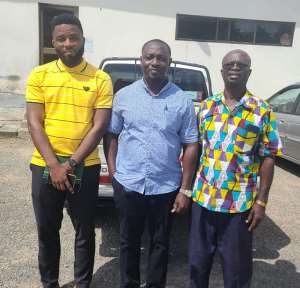 Mr Samuel Aboagye former National Democratic Congress (NDC) parliamentary candidate for the Obuasi East constituency in the 2020 general elections has expressed worry over the developmental challenge in the area as it was a major threat to the welfare of the people.
Mr Aboagye noted that the area could not access any meaningful developmental change since the New Patriotic party (NPP) took over the administration of the country, stating that much deficit has been created in the human resource development, infrastructure and lack of reliable jobs for the people to earn their daily bread.
He said less than 40 percent of the people are engaging in menial jobs while the remaining are casual security workers at the AngloGold Ashanti mines.
This has been the situation since the NPP took over office.
He explained that the few who are lucky to gain some kind of employment could not use their meagre salaries to make an impact in the economy.
Speaking in an interview with this reporter on Monday at Techiman lamented the hardship the people were going through in the area.
He suggested the lifting of the ban on small scale mining to enable the youth venture into the mining alongside the AngloGold Ashanti so that they could generate meaningful income to improve their living conditions among other things.
Mr Aboagye expressed disappointment in some stakeholders including the current Member of Parliament of the area and some political heads for doing nothing.
He stressed the need to bring him and the NDC back to power in 2024 since that was the ultimate way to reinstate responsible mining in the Obuasi area and its environs.
Mr Abpagye disclosed that but for the intervention of the Chiefs and himself the attempts the youth were planning to embark on series of demonstrations to register their displeasure over the state of development in the area.
The former candidate called for the electorate to vote for him and the NDC to come and salvage the situation.