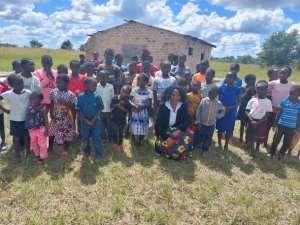 UK-based Zambian philanthropist, Justina Mutale has adopted a rural community school, in the Chitebule area of Nangoma in rural Zambia. The area serves 11 villages, with a population of over 6,000 people covering a 40 kilometres radius.
Sun-Tree Community School, which only had two classrooms, was blown away by rains over two years ago, leaving the children without space to learn from.
"I am a product of President Kaunda's legacy. His passion and government policy to provide upward social mobility through access to free education for those of us who attained school going age soon after Independence, makes me the person that I am today. I believe it is our moral obligation to reciprocate and pay it forward by helping those generations in need that have come after us", says Mutale
In commemorating the first official Kenneth Kaunda Day, which marked the 98th Birthday of Zambia's founding father and first Republican President Dr Kenneth Buchizya David Kaunda, on Thursday 28thApril 2022, Zambians were called upon to emulate Dr Kaunda's legacy of love, peace and selfless service to the nation and humanity as a whole.
At the time of his death, Dr Kaunda left a legacy of love, unity and patriotism and better life for all. As the first President of Zambia, Dr Kaunda established and built various systems and institutions with a quest to improve the livelihood of the Zambian people.
A number of Zambians have been emulating Dr Kaunda's legacy, among them is UK-based Zambian Philanthropist, Justina Mutale, Founder and President of the Justina Mutale Foundation.
"In any country with rising populations, you will always find exploiters, the exploited and the outcasts, who fall through the cracks and go unnoticed. It is overwhelming for me to see that the children and women of Chitebule have been left with no proper education and no health care, and no one seems to take any notice", said Justina Mutale
Mutale has adopted the school with the aim of rebuilding it to allow the children of Chitebule in Mumbwa District to return to school and gain an education. In addition, Mutale hopes to create a Health Post to service the people of the area, which has many women with HIV/AIDS. The area is off grid and has no running water and no electricity.
"I am so happy and beyond words. Thanks to Justina Mutale for accepting to sponsor and strengthen our community school, which has gone down in the past few years due to lack of support. Justina Mutale's sponsorship will help bring back the former glory and go a long way to bring back and keep the children in school, especially the girlchild who when left at home are at risk of falling pregnant or getting married early. We are happy that the sponsorship will extend to the Health Post, which we would like to be brought near the people of Chitebule", says Ms Carol Nawina Maimbolwa, Patron of the School.
Mutale plans to utilise her networks to help the school to grow to international standards by connecting and affiliating the school with primary schools in cities such as Lusaka the capital city of Zambia, as well as other parts of the world. She hopes to match the school with a school in England and/or the United States of America as a twin school, so that the children of Chitebule can share their learnings and possible cultural exchange programmes with an overseas twin school. Mutale has also adopted the village Football Team, which she hopes to link with international teams to stimulate talent.
"On behalf of the other Headmen of Chitebule area, I would like to sincerely thank Madam Justina Mutale for coming to our aid to help revive the school. Our children will now have a school nearby, which has been a problem for many especially during the rainy season. May God bless you", Said Headman Chisule.
Through her Foundation, Mutale advocates for gender equality and the empowerment of women and girls in political leadership and economic empowerment through the provision of leadership and entrepreneurship training, mentorship, and coaching.
She advocates for the retention and completion of tertiary education for young women and girls from rural disadvantaged communities in Africa by providing them with university scholarships to access tertiary education around the world.
"I believe every child has potential. And it is my hope and prayer that every child, can be given an opportunity to access quality education. I believe the children of Chitebule village should be given an opportunity to access a good education to help them excel and realise their highest potential", says Justina Mutale
A recipient of the MANDELA 100 Prize, Mutale has five times been honoured alongside the first President of the Republic of Zambia Dr Kenneth Kaunda on various platforms around the world, in recognition of her leadership qualities and outstanding service to humanity and to public life. She shares various other accolades with various world leaders and was in 2012 honoured as "African Woman of the Year".