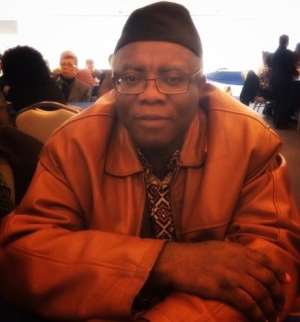 No matter how any self-proclaimed New Patriotic Party (NPP) strategist looks at it, the days of Asante-Akan or Akan-Asante Tribalism and Ethnic Chauvinism, gleefully paraded as a winsome democratic political strategy for the Danquah-Busia-Dombo-inspired political establishment, are well behind the times and the strategic crosshairs of any well-educated and progressive-thinking New Patriotic Party stalwart and, indeed, the Ghanaian citizenry at large. It also cannot be gainsaid that increasingly, most forward-looking eligible Ghanaian voters are more studiously focused on proven leadership competence and the established performance records of individual Presidential Candidates than the mere and feckless fact of whether an individual Presidential Candidate is of Southern Ghanaian Ethnic Descent and/or Heritage or Northern Ghanaian Ethnicity or Cultural Descent, for that matter.
The preceding explains precisely why I found the decidedly despicable article by a Mr. Terry Afram-Kumi, titled "NPP's Winning Formula, a Geo-Religious Masterstroke" to be both comical and absolutely devoid of merit and common sense (Modernghana.com 4/29/22). It is also inexcusably artless and classless, as well as clueless, because the writer facilely presumes the overwhelming majority of the Modern Ghana readership to be composed of simple-minded people like himself. The fact of the matter is that in 2007, when he received the nod of the movers-and-shakers of the New Patriotic Party, Candidate Addo Dankwa Akufo-Addo, partnered by the talented and astute economic analyst and former Deputy-Governor of the Bank of Ghana, Dr. Mahamudu Bawumia, did not smoothly sail to victory because Nana Akufo-Addo was strategically sabotaged by some Asante Ethnic Chauvinists and Nationalists who would rather have had the New Patriotic Party's runner-up in the 2007 Presidential Primary, Mr. Alan John Kwadwo Kyerematen, shepherd the party into the 2008 Presidential Election.
When these self-absorbed and self-infatuated Asante Nationalists, truth be told, could not have their way and their parochial dreams and desires fulfilled, they summarily renounced their party affiliation and membership and left the Akufo-Addo Presidential Campaign to overtly and shamelessly campaign for the coronated – Remember the infamous Swedru Declaration? – Presidential Candidate of the National Democratic Congress (NDC), whom a visibly disappointed and psychologically contused and clinically traumatized Mr. Kyerematen suddenly reckoned to be his fellow "Fante Clansman." Now, it goes without saying that like the rest of the 16, or so, Akan polities or subethnic groups, the Fantes are of Southern Ghanain Descent. But this critically strategic fact, as Mr. Afram-Kumi would have his audiences believe, did not absolutely in any way redound to the benefit of a bona fide Akan and Southern-Ghanaian born Candidate Akufo-Addo, of the trifecta Akan subethnicities of Akyem, Akuapem and Akwamu descent.
In other words, a concatenation of other complex and not-so-complex factors are in play and at work here, including deeply entrenched inter-subethnic and intra-Akan rivalry and tribalism going several generations back, if not centuries. At any rate, it is equally inexcusably insulting to suppose that within the leadership suit or fold of the New Patriotic Party Northern-Descended Ghanaians are permanently doomed to play second bananas to their Southern Akan-Descended fellows. It was this rather philosophically primitive and strategically benighted game of ethnic chauvinism that delivered the electioneering campaign bumper harvest to Candidate John Dramani Mahama, the 2012 Presidential Candidate of the National Democratic Congress, when Kwame Gonja, as the latter is also widely and popularly known, told a teeming throng of voters, supporters and sympathizers of the Old Northern Regional Capital of Tamale that the Southern-Descended Politicians of both major political parties in the country, that is, the then-ruling National Democratic Congress and the then main opposition New Patriotic Party, had colluded and conspired to permanently make their Northern-Descended Colleagues and Counterparts "Presidential Spare-Tires."
That this tactic worked electoral wonders for both Candidate Mahama and the National Democratic Congress' establishment, was primarily due to politically myopic ethnic chauvinists like Mr. Afram-Kumi, who have been far too slow to significantly appreciate the fact that Fourth-Republican Ghana is paradigmatically and oceanically different from the Stone-Age Days of the 1970s and the 1980s, when ethnic provincialism dominated our national political culture and discourse. Northern-Descended Ghanaians were also not the least bit fooled when then-President John "Kofi Diawuo" Agyekum-Kufuor feigned neutrality as a lame-duck president, while he openly, albeit subtly and cunningly, threw his considerable political heft and ballast behind the languid candidacy and badly flagging electioneering campaign of his favorite cabinet appointee and relative, namely, Mr. Kyerematen.
Indeed, so glaring was President Kufuor's nepotism that it generated a seismic undertow of rancor among the party's leadership. Going into the 2024 General Election, any mischievous attempt to sideline a clearly uncontestable Vice-President Mahamudu Bawumia is apt to send the New Patriotic Party nosediving precipitously into the muddy waters of opposition political incarceration, and possibly spell the end of the New Patriotic Party as Ghanaians have come to know the same for a generation now. The real strategic "masterstroke" here is to make the baboon understand, thoroughly, in no uncertain terms, that it has absolutely no inalienable right or entitlement to haughtily demand to be allowed to harvest the vintage fruits of the monkey's labor.
*Visit my blog at: KwameOkoampaAhoofeJr
By Kwame Okoampa-Ahoofe, Jr., PhD
English Department, SUNY-Nassau
Garden City, New York
April 29, 2022
E-mail: [email protected]com