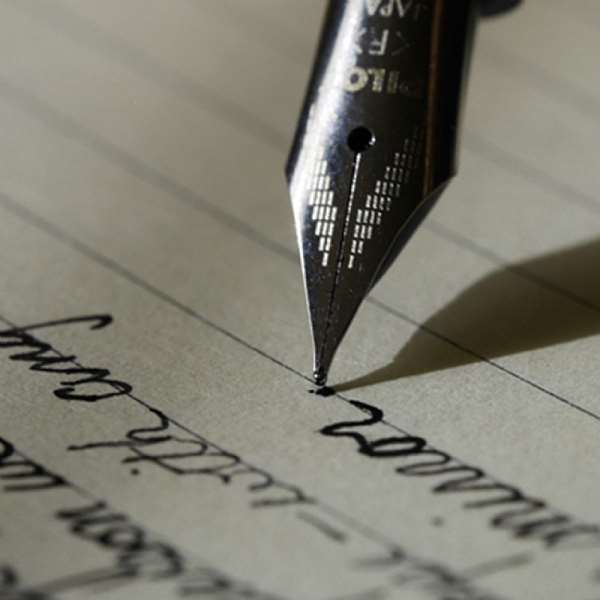 Mensah Sarbah's rival hall stands on the main campus road. Each hall has a motto and a crest, which are displayed on the sign opposite its main entrance.
Stepping off the tro-tro, I can't believe my eyes! Lumbering across the red-dirt "football" (soccer) field is a huge dump-truck-like vehicle, blaring loud music and carrying a load full of dancing students. Their brown skin accents their white and blue headscarves and T-shirts. On this beautiful, blue-sky day, I have spent the morning wandering around downtown Accra, attempting to resolve a lost plane ticket issue, so this sight is a welcome distraction from the frustrating busyness of downtown. The residents of Mensah Sarbah, the oldest residence hall on the University of Ghana-Legon campus, have organized the truck ride to demonstrate their pride for their hall. Each hall has their own week, during which they organize a long string of events in an attempt to outdo all the others.
I walk closer to the truck and the revelers spot me; after all, I am hard to miss with my bright-white skin, which makes me conspicuous everywhere I go in West Africa. They shout and scream for me to come join them; I hesitate for a split second and then gallop down the red-dirt road in my cha-leh watties (flip-flops to North Americans) toward the truck. I step into a huge red-mud puddle from the rains the night before, while a group of men grabs my arms and lifts me into the air in an effort to pull me onto the truck. The truck moves while I am still trying to hop on, making it a bit difficult to keep my shoes on my feet as I try to scramble up to the five-foot-high truck bed. As I struggle to gain my balance, a group of five men rush over to dance with the new lady.
The music makes me want to move! Known as hip-life, it mixes American style hip-hop with a form of Ghanaian music known as high-life. Not quite hip-hop, not quite rock-and-roll, not quite reggae: hip-life blends all of these into amazing beats and instrumentals. There are guitars, samples and Ghanaian and Western rhythms, all overlaid by lyrics rapped in Twi, or Ga, the most common local languages. The annex to Mensah Sarbah has its own motto, but when it comes time to show pride for Mensah Sarbah, the main hall and the two annexes band together for their hall week.
The truck continues to lumber on, while people dance with each other, talk, shout at passers-by and sing along to the music. I push to the center of the truck, closer to the speakers, and find my good friend from dance class. He is wearing a white kerchief embossed with "Mensah Sarbah 1963-2003" and a T-shirt as well. We begin dancing, and the rest of the people on the truck cannot believe that a white girl, an oburoni, has rhythm.
The truck takes us by the mini open air market on campus, where one can find anything from glass-bottled soda to dark beer to digestive crackers to a full meal, cooked over coals in pots. The stands are sheltered by tents, and the market women and their children stare at us as the riders wave and shout their pride for Mensah Sarbah. Students from other residence halls watch us from their seats at wooden benches and tables, as they eat and drink their "minerals" (sodas).
As we continue on, we pass by the international hostel, where I am housed. It is an open-air building and all the hallways are effectively balconies, so I start shouting along with all of the Sarbah residents to draw the people living there, many of them my friends and acquaintances, out of their rooms. Some emerge and wonder at the truckload of people shouting at them.
The sun is making its presence well-known-it is now around noon at the equator. All of us on the truck are dripping sweat. As we start down the main road of campus, I realize that I had hopped onto the truck just as it was starting its journey. Everyone is still full of adrenaline.
The main road of campus is beautiful, with tons of trees lining the road and white one to two-story buildings with red tile roofs. We start down toward the gate, because the people on the truck want to ride by every residence hall on campus to taunt them and exalt their own. The trees on the main road hang down so much tht they scrape our heads when we ride by. The University of Ghana-Legon African Studies department is a source of pride for all university students. Through its programs, the university fosters understanding between students of all backgrounds by offering classes in dance, history, music and the major Ghanaian languages.
Since this is a Saturday, most people are inside resting or have already gone out to the market. We don't quite make it to the main gate, which houses the guards' station; instead we turn down another tree-lined road to return to Mensah Sarbah. As we pull up to the road there is another group of students waiting there to greet the truck riders, who help them off and make plans to join them later when they will take their portable party into the city of Accra and then even later onto the beach, which lies 20 minutes south of Legon.
Instead of joining the other riders, I say goodbye to my friend and skip back to my residence hall, past the tall slim res hall annexes and across the red dirt field where I spied the truck rolling across hours ago. Later in the week, the Mensah Sarbans will have their food fair and their hip-life concert.
In the United States, though I've never seen a pick-up truck full of college students rumble across the soccer field, I have seen a flatbed filled with students and bales of hay trailing through the Midwestern woods at night. Social activities in Ghanaian and U.S. colleges are surprisingly similar, from hall weeks to parties to club meetings. There are key cultural distinctions: a hip-life concert instead of a rock or hip-hop concert, a food fair populated by market women and kele-wele (fried spiced plaintains) instead of a barbeque. Yet in both countries, such activities serve to unite people that are not related by blood but form a common bond by living in the same quarters for nine months out of the year. The rituals themselves are different but the idea is the same. Meredith Peebles is a student at the University of Missouri, Columbia. Dance is her major passion; she also loves to read, sew and work with her hands. This article published by the The Glimpse Foundation was a runner-up in the Glimpse Spring 2004 Writing Contest, "Good Times."