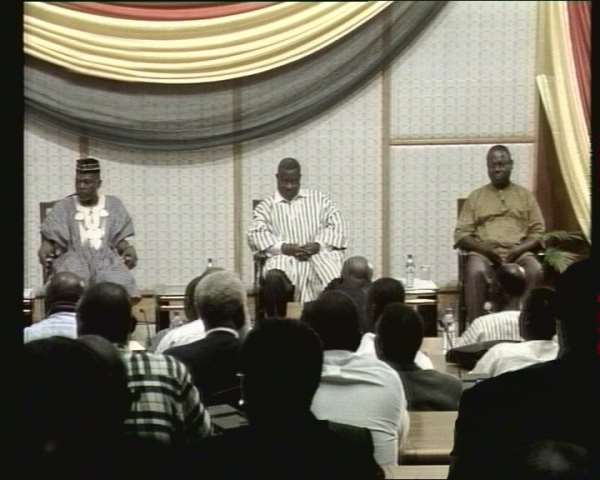 Countrymen and women, loyalists and opponents I believe you were all amused by that 'thing' they called a debate. It wasn't a debate, was it? In my opinion it was just an ordinary Komla Dumor interview – call it a televised version of his Super Morning Show on radio. That "debate", once again, confirmed my long-held belief that we Africans are jokers. Do we even know how to debate?
A debate is supposed to be a healthy, sometimes aggressive, exchange of competitive ideas. A debate should be a give-and-take argument. I remember watching the Bushman and Curry debating – offering competitive ideas, strongly defending them and vowing to implement them to the letter if elected. Not only was it exciting – it was also very stimulating and dare I say, scary for me. I decided not to take part in the debate when I realized that the Bushman had lost the debates and analysts started predicting that his poor performance in the debates could cost him the elections. So I pulled out – thinking that our debate was also going to be a battle of wits and wiles. But what did we see last week? Three hopeless presidential candidates sitting comfortably, answering questions from a broadcaster, just as they would have done in a radio studio. I think it would even have been more of a debate in a radio studio. Come to think of it, the presidential "debate" of 2000 – in which I participated after Tata Mills had chickened out – was much more interesting and far closer to the real thing.
So I don't regret that I pulled out of that… that… interview. I couldn't have sat there listening to my opponents spewing utopian ideas without a chance to challenge them. As I watched that "debate" on TV I realized that Tata Mills had this grave, pained look on his face whenever he was asked a question. He seemed to have gulped down a whole litre of quinine just before the debate. He was also waving his head from one end of his shoulder to the other with careless abandon, all in an attempt to look and sound serious. That's Fiifi for you. He's a pretender. He's naturally, a cool, soft-spoken, "peaceloving" fella. But these days, he tries to sound aggressive. If I had been there for the debate, I would have told him to brighten up a bit and be himself. By and large, I think, Tata Mills won the "debate" – as expected. I didn't expect Georgie Gudey of the CPP to perform better than the eminent professor. But the eminent professor came out with some things that were much too sweet for my liking. He essentially promised to turn Sikaman into a welfare state. He kept mentioning "the poor and vulnerable" as if he cared. He, having supervised 'cash and carry' and all those harsh policies that discouraged people from going to the hospital, now claims to care for the "poor and vulnerable". Thank God the people of Sikaman have already made up their minds and aren't going to vote for Tata Mills.
Coconut Mahama also gave a good account of himself. He looked and sounded too "holier-than-thou" at the debate. He tried to sell himself as the "can-do-no-wrong" guy by promising to fight corruption and check conflicts of interest. He even promised to ensure that politicians don't abuse their positions. That, surely is a tall order. I don't know of any politician in this world who does not abuse their position and I don't think that Coconut Mahama will become the first. Ghanaians know that he makes promises he can't keep and they do not take him seriously. But I liked his remark that people who blow the whistle on corrupt officials should be protected by the state. I have taken this idea serious and when I am re-elected, I will make sure that legislation is passed to protect whistle-blowers.
Then there was Georgie Gudey. He's such a joke. His presence played no small part in making the debate a joke. It's been reported that he gained most from the debate because his popularity (in the sense of being known by many, though not necessarily liked) increased after the debate. I don't know the scientific basis for this assertion, but I think Georgie Gudey made it clear to all Sikaman citizens that he doesn't meet the basic criteria to present himself as a presidential candidate. At one point, he suggested that governance is not for women. If he's elected he would only appoint women to some token positions, just to appease the lobbyists. Gudey also made it clear that he will review my decision to repeal the criminal libel law. He seems to have angered a lot of people – journalists and non-journalists alike – with that suggestion. I won't be surprised if there is a media black out on him between now and the elections. By raising the subject of the repeal of the criminal libel law, Georgie Gudey might have unwittingly raised my profile a bit by reminding journalists about the favour I did them by repealing the criminal libel law – one of the best things I have done since I ascended the Black Star Stool. So I expect the media to be singing my praises. Who knows, if I am re-elected, I might decided to totally repeal the libel laws.
I am really dying to engage in a real debate with the likes of Georgie Gudey – I want one of those heated, argumentative but civilized exchanges, like the one between the Bushman and Curry. But I'm not ready for it now. For now, I think am better off campaigning in the villages and keeping to my incoherent self. After the elections, I will gladly debate with anyone. And anyone who takes it upon himself to organize any such debate should send me an email, a fax, a voicemail and a text message requesting the privilege of my participation.
Incoherently yours,
J. A. Fukuor [email protected]