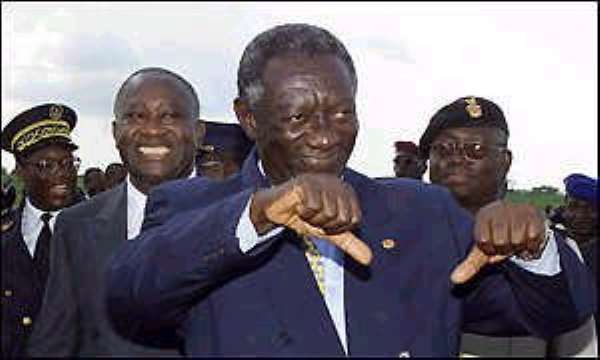 Countrymen and women, loyalists and opponents It is with a heavy heart that I write this letter to you. I am so saddened and angered by the recent upsurge in fighting in La Cote d'Ivoire and the obstinacy of that country's president. I look at events in Cote d'Ivoire, compare them to certain recent incidents in Sikaman and I can't help but conclude that my fellow countrymen are refusing to learn from the mistakes of their neighbour.
First let me comment on the lunacy in Cote d'Ivoire. Everything was going well, apparently, until Gbagbo decided to launch attacks on French troops who had mercifully agreed to come to his country to help keep the peace – something he woefully failed to do himself. The ceasefire was shaky, but it was holding, wasn't it? Yes, until Gbagbo ordered his troops to bomb the French troops. Well, now the situation has gotten out of hands and hostilities have resumed. We, myself, Obasanjo and other African leaders, have been turned into firemen and they are calling on us to come and help douse the flames of Gbagbo's madness. I have told them in no uncertain ways that I am campaigning for re-election. I can't waste my sugarcoated words on silly rebels and an obstinate president when I could use them to win some votes. I want to be the first person in the history of Sikaman to be re-elected to serve a second four-year term on the Black Star stool. Most of you think Jerry Boom holds that record but I am glad to inform you that he does not hold any record. He stole the verdict in 1992. So it doesn't count. The only election he truly won in this country was in 1996 and I must say that I am making this admission with more than a pinch of salt.
So as I was saying I have told my fellow African leaders that I don't care much about what is happening in La Cote d'Ivoire as along as I have not been given another mandate. Gbagbo is a jerk and he must solve his own problems. When I am re-elected, perhaps, I might intervene.
For now, Gbagbo has confirmed what Okro mouth Binbag said a few months ago that he (Gbagbo) does not respect my opinion and he has no regard whatsoever for my valiant efforts to help restore sanity in his country. If he did, he wouldn't have gone back on his word to unilaterally break the ceasefire which was holding quite well. Now he's blaming the international community of backing rebel insurgents instead of supporting his "democratically elected" government.
I think Gbagbo is partially blind. His government was not democratically elected in a free and fair election. That "election" he refers to was rigged by his opponent. If the people of La Cote d'Ivoire had not risked their lives to get out on the streets to demand the resignation of that idiotic Canon Bedie, Gbagbo might have been wallowing in some prison with a special identification haircut. The least he could have done for the people who risked their lives for him was to unite the country, reconcile the people and provide exemplary leadership. Instead, he decided to foolishly follow the same policies the Canon was pursuing – stripping people of their citizenship and excluding certain people from the nation-building process. When the rebellion started, we all tried our best to end it. He, Gbagbo and his cohorts, as well as the rebels, came to Accra to eat, drink and breath our air free of charge, all as my contribution to peace in his country. But, lo and behold, he goes back home and decides to do all the wrong things. Now the rebellion has been re-ignited and with his airforce in tatters, Gbagbo seems to be in the weaker position. Well, he better advise himself before it gets too late. For now, I support every sanction or embargo which will be placed on the country by the United Nations. After the arms embargo, I will like the UN to freeze the accounts of the belligerents and stop them from even having sex. That will force some sense into their heads.
I must say that with the elections approaching, I get the impression that the people of Sikaman are under the illusion that violent conflict can NEVER break out in our country. You people are taking some things for granted and I must warn that you jeopardize the peace in our country at your own peril. Certain violent incidents over the past couple of weeks have given me cause for extreme concern. The first violence was reported, not surprisingly, in Dagbon. The least said about that area the better. Then I also heard that supporters of our two main parties in Cape Coast, of all places, had clashed over the right to hold a rally on a dusty pitch in the Central regional capital. Finally, I have been told of threats by a certain lunatic fringe calling itself the Ashanti Warriors' Forum to bomb certain areas in the Volta Region – to punish those who hooted at me during my last visit to the NDC's so-called "World Bank". Our elders say that if you see your neighbour's beard on fire, make sure you have a bucket full of water nearby just in case… The people of Sikaman have often deluded themselves with the mentality that they are "peace loving" people. Yes. The people of Cote d'Ivoire were more "peace loving" than we are until some idiots decided to incite ethnocentric lunacy and engage in politics of exclusion. Those of you who feel bored with the peace we are enjoying now should go to the Foreign Ministry and complain to the Minister. I have instructed him to register all those who do not like peace and make arrangement for them to be sent to some of the war-torn areas in the world – like Congo DR, Iraq, Cote d'Ivoire or Afghanistan. I know that those "peace-hating" lunatics in our midst from those in Dagbon to the so-called Ashanti Warriors will find excitement in a war zone. Sikaman is not really a place for them. Before I sign off, I want to stress that I can fight my own fights and hoot back at those who hoot at me. I don't need any mad cowards, parading as misguided warriors, to bomb anyone on my behalf. I don't fight with bombs and I know how to deal with those who oppose me.
Ever peace loving,
J. A. Fukuor [email protected]