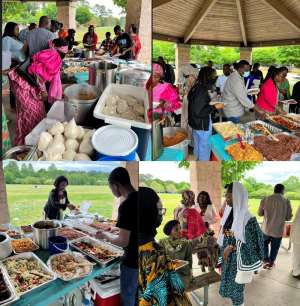 Northern Ghana Heritage of Georgia celebrated Eid Al Fitr (Sanla) with a grand picnic at Alexander Park in Norcross, a suburb of Atlanta. The occasion was well attended by members of the Northern Heritage, the larger Ghanaian community, friends and family.
The special guest of honor for the occasion was Honorable Elaine Amankwah Nietmann, Candidate for Gwinnett County State Court Judge. Honorable Amakwah Nietmann told the gathering that it is important to vote for her to the high office of Gwinnett County because she is "one of us" and understands the culture of Ghanaians. She said she will bring fairness and to the judicial system and would abide by the rule of law. She said she would be honored to be elected to the State Court of Gwinnett because not only is she the daughter of Ghana but she is also very qualified in all aspects.
The Acting President of the Northern Heritage of Georgia, Dr. Ali Yallah thanked all those who took time out of their busy day to come and celebrate the occasion with group. He urged all present to make sure to cast a vote for Honorable Elaine Amakwah to the Gwinnett County State Court as we will all be proud to have a daughter of Ghana elected to such a high position. Given the high number, and continues growing number of Ghanaians in Gwinnett County, Dr. Ali said it is possible to elect Honorable Elaine Amankwah if all of us turn out to vote.
Dr. Ali also expressed great joy and delight at the large number of attendees, given that it is the first picnic of the newly formed Northern Ghana Heritage of Georgia. He urged the group to remain united and to look out for one another. He assured the group that more functions would be coming on between now and the end of the year.
Everyone was treated to traditional dishes of Tuo Zafi (TZ), Wachey, Jolloff, Light Soup, fish and kenkey with fresh pepper, BBQ chicken and Lamb, etc. The attendees danced the rest of the evening away with the latest Ghanaian dance songs. All had fun.
The newly formed Northern Ghana Heritage of Georgia was inspired by a common determination to promote unity among ALL GHANAIANS of any Northern Ghana Heritage regardless of tribe, religion and political affiliation.