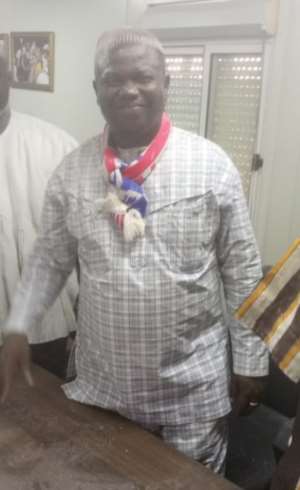 Retained Damongo constituency chairman, Alhaji Adam Braimah alias Bulldozer
Incumbent chairman of the New Patriotic Party (NPP) for Damongo constituency of the Savannah Region, Alhaji Adam Braimah yesterday polled 343 votes to beat his only contender who challenged him for the seat.
After the keenly contested chairmanship slot which together with other positions were held at the forecourt of the MP's office yesterday, Mr. Abubakari Ali in his first attempt to wrestle the seat, lost to the incumbent chairman after he garnered only 121 votes.
Alhaji Adam popularly called "Bulldozer" thus retains the chairmanship for another four years as well as the 1st Vice Chairman, Mbonwura Jimah Awudu who went unopposed.
Mr. Mukaila Salia for the third time, in a remarkable turn of things upstaged the incumbent Kotochi Bakuri Nana to claim the second Vice Chairmanship slot.
In the women's organizer contest which witnessed four people challenging for the position, incumbent officer, madam Helen Azara Nantomah lost out to madam Afisha Jakpa after she garnered just 54 votes as against Afisha's 236 votes.
Mr. Yakubu Yussif on his third time of knocking, defied all odds to win the Youth Organizer race which featured three persons.
He polled a total of 238 votes to beat his closest contender Mr. Bavug Adam Ganja who had 132 votes with Mr. Saeed Benjamin gathering just 93 votes.
The rest of the winners in yesterday's hotly contested election are; Mr. Kadiri Abdul Rahman (constituency secretary elect), Ndodu John Adoshi (Asst. constituency secretary elect), Zombo Abdul Rauf (Constituency Organizer elect) Mr. Hudu Issahaku alias "Ras Banku" (Constituency Treasurer elect) and Mr. Yussif Nsorwura Ibrahim (Nasara Coordinator elect/retained).
The atmosphere at the elections center was relatively calm with the presence of the security personnel from the Ghana Police Service.
No incident or misunderstanding occurred despite the stiff competition among aspirants.