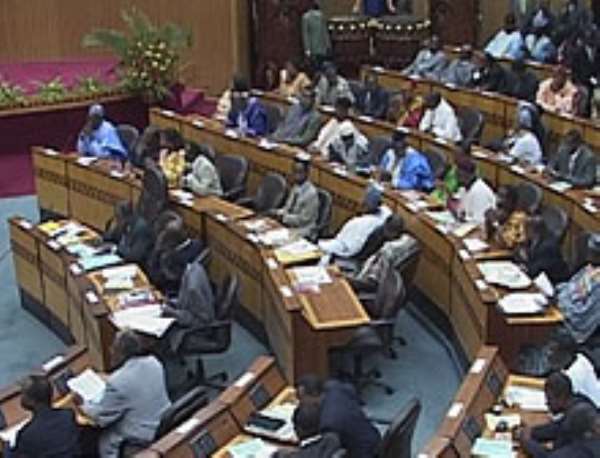 Countrymen and women, loyalists and opponents, I hope that this will be the last time I am compelled to write about MPs before the current parliament is dissolved. But last week the MPs really got me angry with their demand on me to set up some committee to look into their salaries. On this they agreed – very unusually. Yes, if it is money for their pockets and loans for their cars our MPs will agree and reach a consensus with very little debate or controversy. On all other issues – those that are very important to the people of Sikaman – our MPs will squabble needlessly, argue endlessly and walk out of the chamber arrogantly.
When the issue of their conditions of service was raised they all jumped in to make one contribution or another. They accuse me of flouting a constitutional provision to set up a committee to decide on their salaries, end of service benefits, allowances and all the other financial goodies that come with being an 'honourable'. I might have flouted the constitution. I agree that there has been an anomaly somewhere. There's been an omission on my part. But why did the MPs wait till the twilight of the current parliament to make this demand on me? I appreciate their reminding me but I don't like them doing it so late with very little time left, even for them to go back for their constituents to decide whether or not they should continue to stay in parliament.
I am very much aware that quite a number of MPs know that they will not be part of the law-making process in this country from next year. These include the MPs (mostly on the NDC side) who have decided not to stand for re-election for reasons best known to them. It could be that they are tired of always being on the losing side of debates in the house. What is the point of being in parliament when everything you say is "heard" but not "accepted". You vote 'nay' but it hardly matters because the yeah-sayers outnumber the 'naysayers'. The best thing is to get out of the chamber and go and stay your somewhere. There are also those MPs who have already been dishnoured and shown where the power lies in the primaries. They are the MPs who lost the primaries and have even been denied the opportunity (but spared the hassle) of having to face the electorate once again. This two categories of MPs are indeed a desperate lot. They need me to decide on the end-of-service benefits so that they will go to lead the lives of former honourables with a little more money than they are due. They are the once who are spearheading the calls for me to act and act in haste.
But I won't mind them. I will form that committee but only after this parliament has expired. I have my own headaches to deal with and I don't want any MP to annoy me any further. For now the MPs should busy themselves with what we are currently paying them (however miserly the pay might be) to do. A lot of those who know that their fates have been sealed have already stopped attending proceedings. Parliamentary absenteeism has now become even more serious than it was before the primaries. This is the highest form of gross unpatriotism. Asking the taxpayer to pay you more for work you have stopped doing should be punishable by public lashing at Makola. There are so many bills and papers to be considered before the current parliament is dissolved. I want the MPs to get to work and do what is expected of them whether they like their current conditions of service or not. I have decided to ignore their veiled threats to "lose momentum and vim" if their conditions of service with the contempt it deserves.
The MPs should be content that we gave them loans, which they are not being forced to repay, to buy cars. Those cars might not be enough but they cost the taxpayer a lot. If they want more money they should sell their cars and start taking 'trotros' and taxis like most Sikaman citizens do. No honourable is beyond sitting in a 'trotro'.
Instead of whining about what I have failed to do for them, the MPs should rather be complaining about what I have failed to do for the larger Sikaman population. They should unanimously condemn my poor handling of the Dagbon crisis, which is threatening to erupt again as the political temperature increases. The MPs should cry out with one voice and criticize the nepotism and cronyism I have so often exhibited. For a start, the MPs could start challenge me to explain why the allegations of corruption against Bamba and other government officials have not been investigated. They should also challenge my decision not to sleep in the Castle, choosing rather to fortify my own private residence at the taxpayers expense.
Instead of raising hell over my failure to set up 'that' committee the MPs should seriously begin to question why the taxpayer's money is being used to pay for a presidential jet which has been left unused – parked in some hangar somewhere like a mutilated 'boneshaker'. What has become of the presidential jet? Are we going to sell it or not? Have I caused any financial loss to the state by refusing to fly in it? All these are hard questions for our MPs to ask. The MPs should also begin to call for serious investigations into the messy, senseless and illogical management practices of our national airline and the role my administration played to bring it to the brink of imminent collapse.
Now is the time for questions. Hard questions – not demands for better pay. Those MPs who have volunatarily decided not to stand for re-election now have a opportunity to fade into oblivion with glory. They have nothing to lose by asking me the toughest questions. They should open their mouths the widest and demand answers from me. The citizens of Sikaman will love them for it. And who knows? They might even support their demands for improved service conditions – even on the eve of current parliament's dissolutions.
In no mood for silly demands,
J. A. Fukuor [email protected]