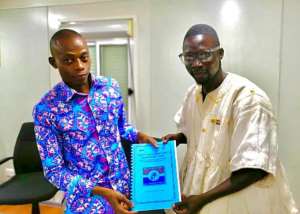 A level 400 student of the University of Education, Winneba, Kanyiti Saburu Kantama otherwise known as Alhaji Nabco has filed his nomination to contest the deputy secretary position of the ruling New Patriotic Party (NPP) for the Damongo constituency.
In a statement issued and copied to Modern Ghana News, Mr. Kantama explained that his decision to join mainstream politics was to help consolidate the gains made by the party at the constituency level and also support retain the MP for the area with a resounding victory come December 2024
According to him, he has done his part by reaching out to delegates of the upcoming election slated later this month and have pledged their unwavering support towards his candidature.
He reiterated his zeal and commitment to serving the interest of the grassroot to augment efforts initiated by the party hierarchy to make the constituency a stronghold of the NPP.
He appealed to the rank and file of the party in the constituency to rally their support behind him to help make the party attractive to floating voters.
He also conveyed words of gratitude to his campaign team members and well-wishers for their words of encouragement and support.