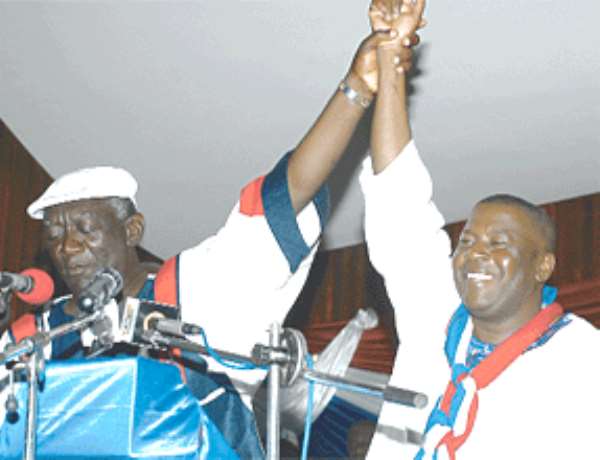 Countrymen and women, loyalists and opponents, whoever took the decision for my party to hold its recent extraordinary delegates' congress in Kumasi has won a HIPC dustbin for his village. It was a very wise, sensible decision, which was perfectly made for me. Holding the congress in Kumasi, I believe, has proved to Jerry Boom and his uncomfortable democrats that "man pass man". They drew crowds for the launch of their manifesto in the Garden City but I drew multitudes to my congress. The heavy turn out was such an ego booster and I wished the congress had lasted a few more days. But, as they say, all good things must come to an end. Even my presidency must end, but not until I've 'chopped' four more years on the Golden Black Star Stool.
Before the congress, there was a lot of speculation about whom I would choose to sit on the little stool besides Black Star Stool. Many suggested that I would drop Maliu. At some point, I must admit, I seriously considered dropping Maliu. But after considering all the pluses and minuses, I decided that he was the ideal running mate.
First of all, he's as inarticulate as I am ineloquent. He can't overshadow me with any 'big' talk. I am the Excellent One and I should not allow anybody to 'beat me' in any department. Maliu is just content being vice President, delivering speeches full of words he cannot even pronounce. He's cool with that. I couldn't have chosen someone like Mantenkyere, as many people suggested. He looks younger, he's smart, he can pronounce every word in the book, he's almost eloquent, and, above all, he's a man of action. He would have overshadowed me. So I didn't pick him. He should wait a little longer. I know Mantenkyere is presidential material but he should oversee special initiative for now until he gets his turn. For now, I like Maliu.
Secondly, I chose Maliu because I need him, and he alone, to help me clear up the mess we both might have created in my first term. Take Dagbon for example. As our elders say, "no one fans the hot roasted plantain for another person to bite". In the same vein, I also say that it is wrong for an innocent child to be forced to clear up the mess created by another. We, Maliu and I, oversaw the "dangerous" developments in Dagbon and I need him to help me clear things up in Dagbon. We will use the next four years to see to it that peace and sanity prevails in Dagbon. He's been accused on several occasions of knowing "something" about the assassination of the Ya Na and I need him on the little stool besides the Black Star Stool to clear his name and that of my government. We might also have created a couple of messes in a few other areas as well – like forcing you to tighten your belts so unnecessarily and so strongly. We, Maliu and I, caused you to tighten your belts and we have to work together to l help you loosen them up. If, for any reason, we are unable to tell you to loosen up your belts, I believe, that the two of us together, have become experts in convincing people to tighten their belts and we will do it again, together – if the need arises. We created so many unnecessary 'customised' portfolios (jobs for the boys) and if this is to change, I need Maliu around to help me do the right thing. In the same vein, I am looking forward to some glorious moments in my second term and who better to share them with than the man, who helped to get it all started. Lest I forget, Maliu and I keep our skeletons in the same cupboard. If I had thrown him out, he could have let everything out.
Maliu also started some things whiles on the little Stool besides the Black Star Stool. He alone can finish them. I am referring specifically to his so-called campaign for greater discipline. The campaign has failed, well, almost. People are still taking out their 'langalanga' to urinate in the open, without an iota of shame, almost telling Maliu to shove his campaign "where the sun don't shine". The country is still very filthy because people still delight in reverse decoration – throwing banana, plastics and all sorts of waste materials about to "decorate" our cities. By selecting him as my running mate, I am giving Maliu a second chance to either liven up his campaign to make it more effectual or aplogise to the whole nation for wasting our time with his bogus campaign.
I am not ashamed to tell you that I also selected Maliu to run with me for a second time because I need his money. You see him like 'that' – so unassuming and all – but he's heavily loaded. Add this to the fact that he's a northern Muslim and you can see that Maliu is a solid running mate. I have beaten Tata Mills to it again and I know he is having sleepless nights over who to choose for a running mate.
Before, I sign off I want to say that I know that my selection of Maliu as running mate did not go down well with all my party members and some floating voters as well. I am not sorry at all because I can't please everyone. Right now, all I care about is to get myself re-elected and I know that Maliu is my best running mate. Without him, I stand to lose a lot. He will stand solidly besides me doing precious little and following my every lead without question.
That's the man – Maliu, my mate.
Excellently yours,
J. A. Fukuor