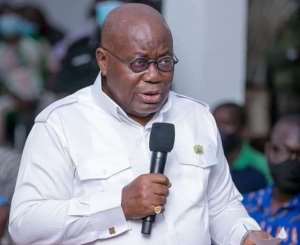 Dear H.E President Akufo-Addo and Vice President Dr. Bawumia,
Covid-19 Health And Sanitation & Pollution Levies: Allocate Funds To Hire And Train Environmental Health Workforce In Response To Covid-19 And Other Environmental Health Challenges In Ghana
The Health Sector Environmental Health Practitioners Association–Ghana (HeSEHPAG), is a registered professional Association for Environmental Health Officers practicing under the Ministry of Health (MOH) and its Agencies, and are regulated by the Allied Health Professions Council (AHPC) in accordance with the Health Professions Regulatory Bodies Act, 2013 (Act 857).
The HeSEHPAG represents Environmental Health Professionals working under the Ministry of Health (MOH), Ghana Health Service (GHS), Teaching Hospitals (THs), Christian Health Association of Ghana (CHAG), Faith-Based and Quasi Health Facilities across the country. HeSEHPAG is the profession's strongest advocate for excellence in the practice of Environmental Health as it delivers on its mission to build, sustain, and empower an effective Environmental Health Workforce.
HeSEHPAG applauds your Excellency the President's efforts in its introduction of the COVID-19 Health and Sanitation and Pollution Levies to adequately mitigate the burden of the pandemic on the economy and the public health workforce as well as on sanitation infrastructure. For example, the proposed establishment of fourteen (14) medical waste treatment facilities across the country to effectively manage COVID-19 infectious wastes as well as carry out fumigation and disinfection of public places including, airports, markets, schools, hospitals, offices etc. by Government.
ESTABLISH MORE ENVIRONMENTAL HEALTH TRAINING INSTITUTIONS AND UPGRADE EXISTING SCHOOLS OF HYGIENE (SOHS) TO DEGREE AWARDING TERTIARY INSTITUTIONS
On behalf of the largest Preventive Public Health Workforce, however, we request that the Environmental Health Profession be identified by name in the plans and funds that would be accrued from the Levies aforementioned to Hire and Train Environmental Health Professionals at MOH/GHS/THs, Public and Private Institutions/Facilities, Industries/Firms and the Establishment of more Environmental Health Training Institutions (Upgrade current Schools of Hygiene to a Degree awarding institutions) and empower other Universities/Colleges to run professional Environmental Health programmes at Degree, Masters and Ph.D. levels respectively, to strengthen and modernize the preventive public health workforce in their readiness to handle emergent pandemics.
Environmental Health Professionals are critical public servants who mainly work at the Port of Entry (POE), Hospitals, Institutions, Industries, Waste Management Companies and Local Authorities. They mediate some of the most intimate parts of our lives; our food, water, and air. Regretfully, they are often overlooked when investments in public health are made.
Environmental Health Practitioners (EHPs) have been essential in delivering public health services during the pandemic. Environmental Health Practitioners at the Port of Entry (Port Health), Hospitals and Local Health Departments (Metropolitan, Municipal and District Assemblies–MMDAs) were actively engaged in COVID-19 response and recovery. For instance, EHPs across the country were at the post because they fall under the essential services under the National Labour Act and further exempted by the President's directives in the COVID-19 restrictions and lockdown as Environmental Health and Sanitation Activities/Services. Their efforts on COVID-19 were key in safely reopening and restoring the economy.
Environmental Health Practitioners roles and duties in this pandemic were:
Healthcare wastes management especially management of highly infectious waste like wastes from COVID- 19 patients, treatment centers and holding facilities.
Ensuring safe and hygienic practices which are important for quality health outcomes.
Promoting hygiene practices like hand hygiene, cough etiquette and environmental cleaning which are essential to breaking the chain of transmissions at the community and other places of human engagements.
Current and terminal disinfection of homes and wards including vehicles and ambulances and articles of a COVID-19 patients and dead bodies.
Safe burial of COVID-19 dead bodies/corpses.
Training of other health staff on waste segregation, Infection Prevention and Control (IPC) and handling of the COVID 19 dead bodies.
Public education on the preventive measures of COVID-19 and other preventable disease conditions such as cholera and diarrhoeal diseases.
Inspection and enforcement of hygiene at all public and private health facilities to ensure personal and environmental hygiene standards.
Preparation of quarantine areas to meet basic hygiene and safety standards.
Contact tracing and monitoring to prevent spread of the disease.
Overseeing operations at public mortuaries where COVID-19 bodies are kept and supervision of private ones.
However, the Hiring and Training of Environmental Health Practitioners will be necessary to ensure the safe reopening of this nation's businesses and the economy in the current and future outbreaks. The public health community needs a robust Environmental Health workforce to ensure that food is safe to eat, water safe to drink, and the environment is safe and healthful for this nation. Public health cannot operate, nor the economy reopens and thrives, without an adequately trained, registered and certified Environmental Health workforce.
On the President's the plan to invest and modernize the public health workforce by providing 88 Hospitals and other Health Infrastructure to expand healthcare, must include Environmental Health. Both present and future public health departments will need Environmental Health Practitioners to perform/carry out Environmental Health Services.
Without acknowledging the largest segment of Preventive Public Health Workers and the services they provide means that the State, MOH and its Agencies as well as Local Health Departments (MMDAs) will never achieve the goals sought by this effort. Environmental Health is critical to ensuring a strong public health workforce both now and in the future.
ESTABLISH A NATIONAL ENVIRONMENTAL HEALTH AND SANITATION RESEARCH CENTRE (NEHSRC) UNDER MINISTRY OF HEALTH (MOH) POST COVID-19 ERA
To this end, we are calling on the President to allocate a significant percentage of the funds from the COVID-19 Health and Sanitation and Pollution Levies to immediately support the Establishment of a National Environmental Health and Sanitation Research Centre ( NEHSRC ) under Ministry of Health ( MOH ) in Ghana Post COVID-19 Era.
We strongly believe and are convinced beyond reasonable doubt that, the NEHSRC will help MOH and its Agencies, Environmental Health Professionals/Practitioners (EHPs) and other interested Actors in the Environmental Health and Sanitation and Public Health Sectors to conduct scientific research and projects to determine the impact of the COVID-19 on Human Health, Environment, Occupational Health, Food Hygiene and Safety, Port Health Services and other specialized areas of the Environmental Health and Sanitation Sector that are of much importance and concern during this COVD-19 era.
Moreover, the NEHSRC among its duties will carry out comprehensive assessment of various categories and classification of wastes in Ghana that has been generated during the COVID-19 pandemic. In addition, the determinants of COVID-19 spread, the adherence and compliance of the prescribed Environmental Health and Hygiene measures and protocols by community members, where and who needs handwashing and sanitary facilities to ensure effective practicing of hand washing could be discovered to help curtail the COVID-19 pandemic and its associated health and environmental implications as the cases continue to spike.
Finally, HeSEHPAG supports the plan to establish Centre of Infectious Diseases with the caveat that it recognizes Environmental Health as part of the public health workforce. WHO/CDC recognizes Environmental Health and will further do through the proposed National Environmental Health and Sanitation Research Centre (NEHRC). Without this, your Excellency, the President's effort will be unable to build a new public health workforce that addresses the needs of the nation if the Environmental Health workforce is ignored.
HeSEHPAG strongly encourages the Hiring and Training of Environmental Health Practitioners with the establishment of more Environmental Health Training Institutions. This workforce has suffered from a decline in practitioners in MOH and Local Health Departments (MMDAs) for so many years with lack of posting of qualified graduates ranging from ten (10) years upon completion of their programme of study in professional Environmental Health from the Schools of Hygiene (SOH), even though Environmental Health Services are performed and needed in virtually every Health Department, from the smallest rural to the largest Urban Departments.
These Practitioners inspect food service establishments, ensure public and private drinking water is safe, and perform building and housing inspections. They inspect homes for hazards, ensure indoor air is clean, and that vectors and vermin such as mosquitoes are controlled.
By disregarding the Environmental Health workforce, the H.E Akufo-Addo-Bawumia plan to support the development of the next generation of public health leaders will neglect a critical part of the workforce responsible for Environmental Public Health who are the backbone of quality health and well-being. As these Health Professionals were affectionately called "Tankas/Samansaman" in the olden days.
As the Presidency seeks to work with leaders from across the public health community, HeSEHPAG recommends that this includes leaders from the Environmental Health community. Being part of this effort will acknowledge the value provided by the Environmental Health workforce, while ensuring that this effort achieves the maximum success for the State, MOH/GHS and Local Public Health (MMDAs) workforce, as well as your Administration.
HeSEHPAG supports this effort and wants to see it succeed yet has doubts to its success if the largest preventive Sector of the Public Health (Environmental Health Officers) workforce is not included.
HeSEHPAG looks forward to working with your Administration on this effort and regard.
Thank you.
Sincerely yours,
DOREEN DANSO (M.Sc., MAHPC, MCIEH-UK)
NATIONAL PRESIDENT
+233 (0) 244215670
[email protected] / [email protected]
Cc:
The Rt. Hon. Alban Sumana Kingsford Bagbin
Speaker of Parliament, Parliament of Ghana, Parliament House, Accra
Dr. Nsiah Asare
The Presidential Advisor on Health, Office of the President, Jubilee House, Accra
Hon. Kwaku Agyeman-Manu (MP)
The Minister of Health, MOH, Accra
Madam Cecilia Abena Dapaah
The Minister of Sanitation and Water Resources, MSWR, Accra