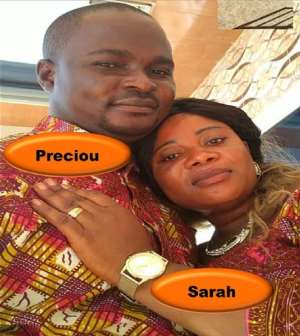 Ideally, it is better to honour people and show them gratitude while they are alive rather than give them gold posthumously. In his play dubbed Julius Caesar, William Shakespeare advises through the lips of Brutus that the eye sees not itself except by reflection in other surfaces. As such, the sterling qualities of every individual must be mirrored to the world by another person for it takes a Cassius in Shakespearean parlance to reflect the good deeds of a Brutus who cannot see his own face.
It is in a vein similar to the foregoing that I seek to honour a brother and a friend. He is called Precious Agbemor Tsorhe whom I have known and associated with for some few years. I first came into contact with Precious in 2017 thereabout when he and his friend, Victor Gotah called on me for some important discussions. Wisdom Titrim was the one who asked them to see me.
Precious hails from Battor, one of the 13 traditional areas in the Tongu Districts. Known for its famous Catholic Hospital, Battor is the administrative capital of the North Tongu District. This is the hometown of Precious. Precious hails paternally from the Kpele Clan and maternally from the Kͻnͻkuxͻ Clan. His father is Mr. Samuel Avortor Tsorhe and his mother was the late Madam Salome Xegbati. Precious is married to Sarah Dotse (a.k.a Mrs. Tsorhe) and they have three (3) strong children (all boys).
Professionally, Precious Agbemor Tsorhe is a Freight Forwarder and he is a management member of a Tema-based organization called Banner Services Limited. Precious is a staunch worshipper of the Lord Jesus Christ at the Action Chapel International Church.
Precious is a very generous fellow and his magnanimity knows no bounds. He is generous to the poor, the rich, the old, the young, the known and the unknown and he does so without expecting a reward from humanity. Indeed, Precious seems to adhere to the words of Jesus Christ in Mathew 25: 40. He said, "Truly, I tell you, whatever you did for one of the least of these brothers and sisters of mine, you did it for me." Agbemor's generous lifestyle equally resonates with the Biblical assertion in Philippians 2:4. It states, "Let each of you look not only to his own interests, but also to the interests of others."
Precious, your brotherly attitude to people around you is a natural gift you have and by this article, I encourage you to continue to serve humanity in that regard. I have decided not to wait till perhaps after your death (God forbids bad thing) that I will write and read a lenghty tribute or sing dirges when you no longer have the sense of hearing in the land of the living.
Agbemor, it is indeed surprising that you sometimes give out the only thing you have to others just to make them comfortable and to the detriment of yourself. If this is not a God-given attitude then what else could it be? You are frank, straighfoward and you usually call a spade, a spade. You do swiftly correct a friend anytime the person is going wrong or had done something untoward. By your lifestyle, you seek to agree with Stephen Grellet's "Do it Now" assertion which goes, "I expect to pass through this world but once. Any good thing, therefore, that I can do or any kindness I can show to any fellow human being, let me do it now. Let me not defer nor neglect it, for I shall not pass this way again."
To me, it appears you believe in the foregoing statement, and you adhere to it so well to the admiration of many people. I knew you through Wisdom Titrim, our collective friend who told me a lot about you and later your lifestyle confirmed to me, your goodness. Quite recently, another common friend of ours, Innocent Dodzi Fosu also told me a lot about your childhood days. Dodzi's narratives about you further confirmed your God-fearing and humble nature right from childhood. He equally admitted that you an epitome of generosity.
Even as I salute you for your kind gestures to others, I equally pray the Lord God to continue to look on you favorably, to protect you and to open bigger and better doors for you. May the Lord God favour you, your wife, children and other family members with good health. Precious Agbemor Tsorhe, may the redemptive blood of Jesus Christ be your spiritual identity and may the Holy Ghost Fire be the spiritual wall around you all the days of your life here on earth and beyond. On this note, I say ayekoo and keep it up.
~Asante Sana ~
Author: Philip Afeti Korto.
Email: [email protected]