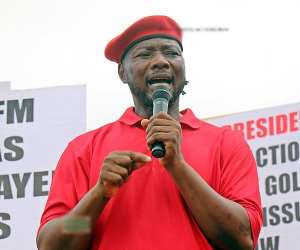 Activist and Convener for Justice 4 Ghana, Bernard Mornah
Convener of advocacy group 'Justice 4 Ghana', Bernard Mornah has stressed that action will be taken against the use of Mobile Money if government goes ahead with the implementation of the Electronic Transaction Levy (E-Levy).
Despite agitations by some sections of Ghanaians and the Minority in Parliament, government through the Finance Ministry is pushing to have the controversial E-Levy approved by Parliament.
According to Member of Parliament MP for Nhyiaeso Constituency, Dr. Stephen Amoah, government will use every ounce of its power to ensure the levy is passed regardless of the opposition.
Speaking to 3FM on the back of that declaration, Bernard Mornah has emphasised that the Ghanaian people will also abandon the use of Mobile Money if the levy is implemented.
"We will secure our freedom from the electronic transaction levy. If parliament decides to pass it we will go the other way…
"We chose mobile money services because it's convenient but if it's becoming expensive we'll withdraw our money from the mobile services and go back to a cash society," the Convener of 'Justice 4 Ghana' and renowned activists shared.
The E-Levy was expected to be discussed in Parliament this week when the house resumed sitting on Tuesday, January 25, 2022.
However, with its exclusion from the agenda of Parliament, it is now anticipated that talks between the Majority and the Minority would continue in Parliament next week instead.