Supporters of Burkina Faso's new junta rallied on Tuesday as the UN, France and the poor Sahel country's neighbours condemned its latest coup.
Army officers in the notoriously volatile West African state detained President Roch Marc Christian Kabore on Monday amid deepening anger over his handling of a jihadist insurgency.
The former French colony is now in the hands of the Patriotic Movement for Preservation and Restoration (MPSR), the name of a junta led by Lieutenant-Colonel Paul-Henri Sandaogo Damiba.
Several hundred people gathered in Nation Square in the heart of the capital Ouagadougou, waving flags and sounding vuvuzela horns in a loud show of support for the junta, while hawkers nearby sold posters of the new strongman.
"We called for President Kabore's departure several times, but he didn't listen to us. The army heard us and understood," said Lassane Ouedrago, an activist in a grassroots group.
"As far as we're concerned, it's not a coup," said Julienne Traore, a 30-year-old teacher. "It's the liberation of a country, which was being governed by people who were incompetent."
Some demonstrators carried Malian and Russian flags -- a reference to neighbouring Mali's military junta, which in 2020 also took power on the back of protests over the response to jihadist bloodshed, and has recently forged security ties with Moscow.
Russian businessman Yevgeny Prigozhin, thought to be close to President Vladimir Putin and suspected of having ties with the Wagner mercenary group active in Mali, said the coup was a sign of a "new era of decolonisation" in Africa.

Coup leader Paul-Henri Sandaogo Damiba was on the cover of Tuesday's newspapers. By OLYMPIA DE MAISMONT (AFP)
The junta late Monday suspended Burkina's constitution, dissolved the government and parliament and closed the country's borders.
The MPSR will re-establish "constitutional order" within a "reasonable time," the junta said in a statement, adding that a nighttime curfew would be enforced.
On Tuesday, the junta announced the resumption of air traffic while reopening land borders for vehicles carrying humanitarian, military and essential goods.
Despite the political upheaval, life in Ouagadougou seemed to continue as normal.
The city's main market, shops and petrol stations were open, and there was no particular military presence in the centre, an AFP journalist saw.
Widespread condemnation
West Africa has been rattled by three military coups in less than 18 months, beginning with Mali in August 2020, then Guinea in September 2021.
It is the latest bout of political turmoil to strike Burkina Faso, which has had little stability since gaining independence from France in 1960.
UN chief Antonio Guterres lashed coups as "unacceptable", saying "democratic societies are a value that must be preserved".
"The role of the military must be to defend their countries and their peoples, not to attack their governments and to fight for power," he said.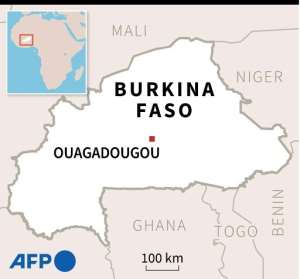 Map of Burkina Faso locating the capital Ouagadougou. By (AFP)
French President Emmanuel Macron condemned the coup and called for the immediate release of the ousted president.
France has committed thousands of troops to shoring up former colonies Burkina Faso, Niger and Mali -- three of the world's poorest countries -- in the face of a brutal jihadist offensive.
The West African bloc ECOWAS, which includes Burkina, held a special summit, issuing a statement "firmly" condemning the putsch. Britain and South Africa also joined the chorus of criticism.
The G5 Sahel, an anti-jihadist alliance that includes Chad, Mali, Mauritania and Niger, slammed what it called an "attempt to disrupt the constitutional order" in its fifth member Burkina Faso.

Kabore faced increasing criticism for his handling of the jihadist insurgency. By JULIEN DE ROSA (POOL/AFP)
State TV RTB published a handwritten letter on social media Monday that it said was written by Kabore, purportedly saying that he was stepping down "in the higher interests of the nation".
The letter could not be independently verified, but ECOWAS confirmed that Kabore had resigned, and said this was "under threat, intimidation and pressure from soldiers after two days of mutiny".
The whereabouts of Kabore, Prime Minister Lassina Zerbo and other senior officials are unknown.
The junta said "the operations (to overthrow Kabore) unfolded without bloodshed and without any physical violence towards the persons arrested, who are being held in a secure place with respect for their dignity".
Bloody attacks on forces
Kabore's downfall came amid deepening anger at the government's failure to stem Burkina Faso's security crisis.
Armed Islamists began launching cross-border raids from Mali in 2015, overwhelming the country's poorly trained and badly equipped armed forces.
Around 2,000 people have died, according to an AFP tally. In a country of 21 million, some 1.5 million people are internally displaced, according to the national emergency agency CONASUR.
Bloody attacks on the army, police and a volunteer civilian militia mounted throughout 2021, and accounts of negligence or indifference by top commanders sparked particular anger.
On Saturday, police used tear gas to disperse banned protests, arresting dozens.
The following day, troops began to mutiny in numerous barracks, and Kabore was toppled on Monday.
Kabore was elected in 2015, pitching himself as a beacon of hope after the long reign of strongman Blaise Compaore, who came to power in a putsch in 1987.