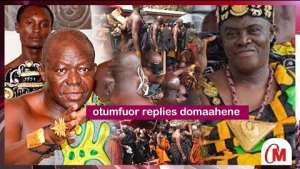 I have been watching and reading with great concern the ongoing back and forth accusatorial narratives of tribal superiority and or, conquest, between the Dormaahene Osagyefo Agyemang Badu II (PhD) and Asantehene Otumfuo Osei Tutu II.
Dormaahene posits that the Dormaa people around the 18th Century defeated the inhabitants of Kumasi, consigned them to servitude of hewing trees to serve the firewood needs of the conqueror Dormaa people, using "akuma", an Akan language for axe. Hence by Dormaahene's narratives, Kumasi means the abode of the people who wield the axe to split wood for the benefit of the conqueror Dormaa tribe.
However, Asantehene is quick to rebut the distortion of Asante and Dormaa conquest history as narrated live in public under recording camera by Dormaahene Oseagyefo Agyemang Badu II.
I have even placed a publication on the Ghana internet news portal to discount Dormaahene's version of how Kumasi and Kumawu came into being. Kumasi and Kumawu came into existence as a result of the planting of the two "Kum" trees; one in Kwamang, now Kumasi and the other in Apemso, now Kumawu. Kwamang did not earn its current name Kumasi by the fact the people inhabiting the land had been conquered and reduced to fetching firewood for the Dormaa people who were then living not far from Kwamang.
Whatever transpired in those historic warring days should not be allowed to endanger the peace and harmonious co-existence all the tribes in Ghana are enjoying at the moment. We have moved forward as a nation and a people with a common destiny hence we should not allow for the trivialities of history that will not put bread on the table to cause animosity among us to put us asunder.
Dormaahene is embittered by the fact that at each Asanteman sitting, the Dormaahene is insulted to his face. The Dormaahene and his people are denigrated by the repeated reminding of them of how their chief was beheaded centuries ago with the Dormaa people humiliated when the chief incurred the wrath of then Asantehene.
Nevertheless, the Asantes maintain that the traditional praises they heap on Asantehene when he is in public sitting, have to do with reminding Asantehene how great he is with his Asante Kingdom, now Asanteman. They mention all the great wars and chiefs that the Asante people had executed, defeated and killed. It is not only about that of Dormaa but all the other tribes or then states. Therefore, they see no reason why it is only Dormaahene that has taken offence but not the others.
Be that as it may, should that singing of praises to virtually raise Asantehene to the status of Lord the Saviour, without any practical evidence of its usefulness to the suffering Asante people and their towns and villages, be continued? Is it too difficult for us to consign it to the history books, leave the books to gather dust, only to be revisited to enhance our knowledge but not to repeat them too often in deliberate attempts to insult the once conquered tribes or people?
Is it worth heaping all such praises on a King who presides over a filthy and rodent-infested city that serves as the seat of his monarchy to the detriment of other fellow Ghanaians? Is it worthy of those uttering such praises when they themselves are witnesses to the fact the very current King they are proudly singing his praises, although he personally has no hand in earning the feats that have acquired him the praises, sat nonchalantly when the late Professor Atta Evans Mills' NDC government of which he is a member or a sympathiser, introduced the National Health Insurance Scheme (NHIS) capitation in Ashanti region?
The NHIS capitation introduced as a pilot scheme starting in Ashanti region, led to the deaths of many in the region. This is an indisputable fact.
"Capitation is a provider payment mechanism in which providers in the payment system are paid, typically in advance, a pre-determined fixed rate to provide a defined set of services for each individual enrolled with the provider for a fixed period of time. The amount paid to the provider is irrespective of whether that person would seek care or not during the designated period".
The money was too little that many healthcare providers were not ready to accept it yet, the government never budged, but allowed what was intended to be a six-month pilot scheme to last for about three years hence many a patient seeking medical care in the region dying.
What is a pilot scheme? It is defined as "a small-scale experiment or set of observations undertaken to decide how and whether to launch a full-scale project".
Anyway, let me ask the bloggers, tribalists, sycophants and those who claim to understand much better the Asante or Dormaa history, to do what is needful than to stoke the embers. When the embers get inflamed, it can cause serious damage.
Instead of the bloggers, sycophants and tribalists calling themselves astute historians endeavouring to calm the situation through offer of intelligent advice and suggestions, they are rather taking entrenched positions in support of their camp and fanning the embers.
I am sorry, they will themselves be engulfed by the fire they are knowingly, or unknowingly, helping to create out of their senseless polarization of their ethnic enclaves.
When history glorifying a person or a group of persons has outlived its importance, we had better let it lie low rather than to strive to keep it alive.
Following the racial murder of George Floyd, a black American, in the USA, some actions have been taken both in the United States of America and the United Kingdom to seek to reduce racial tension between the whites and the blacks.
George Floyd had a white police officer kneel on his neck while in handcuffs and put flat on the floor. All his pleas of "I can't breathe, I can't breathe" were ignored until he gave up the ghost on the scene.
The racial murder of George Floyd sparked worldwide demonstrations of "Black Lives Matter".
Subsequently, a grade 2 listed bronze statue of Bristol-born merchant Edward Colston Edward (1636–1721) was pulled down by irate demonstrators, all principally white youngsters. "It was created in 1895 by the Irish sculptor John Cassidy and erected on a plinth of Portland stone in a public park known as "The Centre" in Bristol, England. In 1977, the statue was designated a Grade II listed structure".
Edward Colston, although a philanthropist, was heavily involved in the dehumanising Atlantic slave trade where hundreds of thousands of black people were murdered, sold, mistreated and subjected to all inhumane practices. They were seen by their superior white slave lords as subhuman. This has been the history and glorification of Edward Colston. Nonetheless, the presence of the statue reminding black people of the pain their slave ancestors went through and its aftermath derision and continual viewing of black people as inferior human beings, necessitated its forceful pulling down, although illegal as it may be.
It is a fact the history of selling and maltreating black people had taken place centuries ago. Is it worth keeping conspicuous structures that will always remind and compel black people to relive the pain their ancestors went through, or to give the present day white generations the impetus to look down on black people to desire to maltreat them as and when they like as happened to George Floyd?
When the youngsters who pulled down the Edward Colston's statue were taken to court, they were finally found not guilty, discharged and acquitted by the court, although they pulled down the statue without any right. They simply wanted to obliterate the painful history that continues to cause animosity between blacks and whites so that people will see themselves as human beings that merit to live in peace and harmony regardless of their skin colour.
Confederate monuments and flags in certain American cities have also been pulled down as they are seen by critics as racially offensive. "Most defenders of Confederate symbols say they are not meant to memorialise slavery, which the South fought to preserve. But most historians agree it was about slavery. Racial minorities, especially black Americans, feel that their presence in public life is offensive".
Similarly, if just falling on mocking history will cause division and pain among tribes, why not keep such histories in low profile but proudly announce them all the time in the presence of those defeated, in praise of the conquerors?
Let us wise up, those of us taking entrenched positions in the ongoing hullabaloo between Asantehene Otumfuo Osei Tutu II and Dormaahene Oseagyefo Agyemang Badu II.
We need development of our towns and villages and jobs for the youth but not the adoration and distortions of history that will cause us further pain than to ameliorate our living standard.
The wise, proud and fearless son of Kumawu/Asiampa soil has spoken. Those who crave wisdom, should listen to Rockson Adofo and do as he suggests. That is the only way forward to unite the two feuding chiefs to bring peace and tranquillity between their subjects.
Rockson Adofo
Monday, 24 January 2022