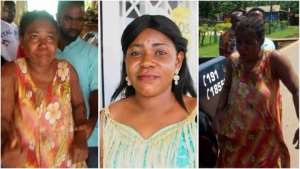 Dr. Jerry James Abrobah, the Medical Superintendent of the Axim government hospital has told the court that his Medical Officer did not continue to care for Josephine Payne Simons, the lady at the centre of the Takoradi 'fake Pregnant and kidnap' case because he was afraid of the heavy armed police presence at the facility.
"My medical officer though took the vitals and stabilized her, he was afraid of the armed police presence. He told me how about 25 to 30 armed Police presence overtook the Hospital", Dr Abrobah said.
He was responding to questions posed by Mr Fifi Buckman, lead Counsel for the accused during a cross examination on Thursday at the Takoradi Circuit Court A.
Dr Abrobah who earlier denied administering any medication to the accused person admitted that some medications were given to her after further probe by the lawyer.
Josephine Panyin Simons, who was deemed pregnant by family and friends in her neighborhood disappeared on Thursday September 16 during her routine morning walk in Takoradi only to be found in Axim in a depressed mood without the pregnancy.
The case has therefore been adjourned to Thursday January 27 to enable the rest of the witnesses to appear to give evidence.
GNA