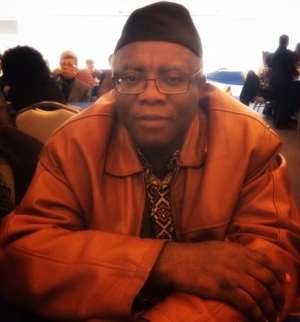 Dr. Kofi "Smarty Pants" Konadu Apraku needs to be told the unvarnished truth upfront, which is that he needs to sit down, sober up and critically examine his protracted decidedly shameless and ineffectual attempts, together with at least some two or three other equally notorious panjandrums and popinjays, all members of the New Patriotic Party, to crudely and royally railroad the presidential ambitions of then-Candidate Addo Dankwa Akufo-Addo in the specious propagandistic guise and spiel of being far more attractive to "Floating Voters" than the now-President Akufo-Addo. The fact of the matter is that Konadu Apraku has spent a very long, long time digging his own grave and has absolutely no right to bitterly complain about being allowed to lie in it ( See "I've Worked with Akufo-Addo Since[sic] but He Didn't Offer Me Appointment – Konadu Apraku" Modernghana.com 1/18/22).
Put in more simple and understandable terms, the American-trained Agricultural Economist, as I reliably understand, has worked more virulently and deviously against Nana Akufo-Addo than he ever pretended to either seriously or studiously work to promote the legitimately sanctioned and democratically authorized or endorsed presidential ambitions and three-time candidacies of the former Attorney-General and Minister of Justice, not the least bit in much the same way that a defeated Candidate Akufo-Addo is widely known and acknowledged to have indefatigably worked for the 2000 Presidential Election success story of then-Candidate John "Gentle Giant" Agyekum-Kufuor. So maybe Dr. Apraku needs to even more critically examine the reason or reasons why he was so swiftly and summarily expelled from the ministerial cabinet and completely and permanently kept at arm's length for the entire duration of his second term by President John Agyekum-Kufuor.
I have written extensively about the former Offinso-North's New Patriotic Party Member of Parliament and his well-known anti-Akufo-Addo shenanigans and so find it to be absolutely unnecessary at this time to rehash the same here, except to glancingly remark that Dr. Apraku has made himself insufferably infamous for almost hermetically or exclusively and invariably looking out for himself opportunistically, even while also baldly or vacuously claiming to be working to advance the interests of far better qualified presidential candidate/candidacy materials for the collective interests of both the party and the long-term interests and good fortunes of our beloved nation at large.
Indeed, in one of his final and most memorable and virally watched and/or listened to multicast interviews, for only one striking example, by the way, the legendary Storytelling Highlife Maestro, Daasebre Nana PSK Ampadu, I, painfully recounted how he had met and discussed plans on how to diligently work towards the political success of then-Candidate Akufo-Addo, only to shortly discover to his utter horror and disappointment that Akufo-Addo's presidential or political success was among the least bit of the worries of the sometime compromise electioneering campaign manager of the former Foreign Minister and ECOWAS Regional Integration Minister.
You see, you don't simply select or appoint anybody into your cabinet merely because both the would-be appointee and the prospective appointer belong to the same political party or even the same ideological establishment. Cabinet appointments are purely and squarely based on trust, especially on the part of the appointer or the newly elected president or prime minister, for that matter. Dr. Konadu Apraku has more than ample paper trail and media publications that would have made Nana Akufo-Addo seem to be clinically flaky or unhinged, if "The Little Man from Kyebi" had made the most egregious and politically suicidal error of tapping him as a member of his cabinet. Besides, as I have personally been able to espy or forensically verify, there are far too many qualified and over-qualified and generously talented party stalwarts for President Akufo-Addo to build up his cabinet, which is precisely what he has done.
There is also an Akan parental adage that runs as follows: "I will never cut a walking stick taller than my height." That is precisely what "The Little Man from Kyebi" has done. So, if a desperate pathological megalomaniac like Dr. "Smarty Pants" Apraku finds Nana Akufo-Addo's all-too-savvy decision not to hire him as a cabinet appointee to be unacceptable, by all means, even as the cliché goes, Dr. Apraku can go and dry up The Offin. At any rate, he is not constitutionally or inalienably entitled to a cabinet appointment merely because a politically conciliatory Nana Akufo-Addo once generously consented to working with him. For this writer, personally, though, Dr. Apraku has this weird rhetorical streak of delivery that makes him sound like a comedian or somebody straining beyond capacity and aptitude to sound like a native speaker of the English language. It makes him sound like somebody with a speech impediment requiring immediate therapy or medical attention. But, you see, Nana Akufo-Addo was never on the lookout for comedians to fill up his cabinet.
By the way, who has Kofi Konadu Apraku been trying to impress these days? Maybe his former Offinso-North constituents who elected him a couple, or so, times to Parliament? Definitely not the New Patriotic Party Delegates who thrice roundly rejected him as the party's Presidential Nominee.
*Visit my blog at: KwameOkoampaAhoofeJr
By Kwame Okoampa-Ahoofe, Jr., PhD
English Department, SUNY-Nassau
Garden City, New York
January 18, 2022
E-mail: [email protected]