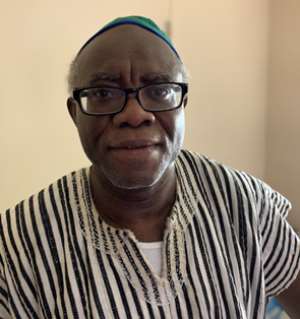 There are other equally appropriate and/or suitable captions that I could have given this column, such as "We Will Not Be Taken Back to 2008," "The Kyerematen Hostage-Taking Days Are Over," and "Kyerematen Voted NDC in 2008 and 2012," the latter of which I likely have used before in the recent past and appropriately so, if also because contrary to what his so-called "Concerned NPP Supporters in Central Region" would have the rest of us party trench-war fighters believe, Mr. Alan John Kwadwo Kyerematen has long exhausted himself of every prime opportunity to forensically and credibly demonstrate that, indeed, he had what it took to call or label himself as a Founding-Member of the New Patriotic Party (NPP) and even more importantly, to demonstrate in Paineian terms – as in Thomas Paine – that he was not a "Summer Soldier" but instead a solid-rock stalwart of the New Patriotic Party.
So, this nonsense about Mr. Kyerematen's staunchest supporters and Amen-Corner Boys having been unfairly sidelined by key party operatives and bosses around the country will not wash. It will not wash because it was these same wishy-washy "Concerned NPP Supporters in Central Region" who deserted the party in August 2008, with barely four months to that historic year's General Election, along with their paymaster and political idol or hero (See "Your 'Animal-Farm Selective Justice' System Will Send Us to[sic] Opposition in 2024 – NPP Group to Leadership" Modernghana.com 1/13/22).
Well, the inescapable fact of the matter is that twice within the past 16 years, the Concerned NPP Supporters in Central Region sent the party into opposition because they arrogantly could not abide the fact that their favorite Presidential Candidate had been thoroughly defeated by then-Candidate Addo Dankwa Akufo-Addo. They would repeat the same politically self-destructive game plan in 2012. You see, the stark and plain fact of the matter is that we have, twice, been here before – and absolutely no amounts of threats will force us to go back to Bataan or to self-destructively reverse course.
The so-called Concerned NPP Supporters in Central Region would do themselves and their sympathizers great good to refer back to the history books or our party history notes and studiously read what one of their own most revered party stalwarts, namely, the immortalized Mr. Joseph "Joe" Da Rocha, the very first National Chairman of the New Patriotic Party, had to say about the immitigably and inexcusably depraved and self-serving decision by Mr. Alan John Kwadwo Kyerematen – aka Alan Cash – to officially resign his party membership, seniority and just about everything else.
For those of our readers who may not be readily inclined to access the same, at the time that he decided to officially resign from the New Patriotic Party, Mr. Kyerematen also contemptuously claimed that he and his supporters could not work amicably with the then-Candidate Akufo-Addo and his supporters because he personally found the latter to be insufferably hostile to work with. It is also equally significant to, once again, reiterate for the sake of posterity and the record books, that none of his most prominent and powerful patrons and sponsors in the party reached out to ensure that Mr. Kyerematen would swallow his palpably overweening pride or hubris and humbly haunch down to collaboratively work for both the short- and long-term good of the New Patriotic Party.
You see, real and true justice is when one takes a decision and is courageous and mature enough to abide by the results and/or consequences of such decision. This is why it is nothing short of scandalously absurd for the Concerned NPP Supporters in Central Region to be accusing the leadership of the New Patriotic Party of flagrantly indulging in "selective justice." Now, whoever legislated that somehow, Alan Cash stood well over and over the disciplinary rules of the New Patriotic Party? We also critically take note of the fact that when Mr. Kyerematen, the widely alleged Founding-Member of the New Patriotic Party, summarily resigned his party membership and turned his back on the New Patriotic Party, the newcomer Dr. Bawumia solidly stood behind the one candidate that the New Patriotic Party Delegates had legitimately and democratically chosen to represent the ideals and aspirations of the party at the national and international levels.
The now-Vice-President Bawumia did not staunchly back Candidate Akufo-Addo just once but thrice, that is, one more than the number of times that party Founding-Member Alan Kyerematen had turned heels on the party. So, wherein lie the sort of "Selective Justice" that the "Swing" Concerned NPP Supporters from the "Swing Region" are talking about? We could also talk about the individual political track records of both Vice-President Bawumia and Mr. Kyerematen, but time does not permit yours truly to do so presently.
*Visit my blog at: KwameOkoampaAhoofeJr
By Kwame Okoampa-Ahoofe, Jr., PhD
English Department, SUNY-Nassau
Garden City, New York
January 17, 2022
E-mail: [email protected]