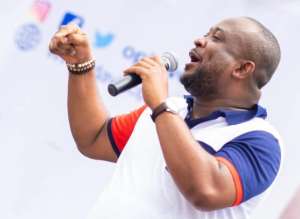 The former Deputy Information Minister and now Chief Executive Officer (CEO) for the National Youth Authority (NYA) Pius Enam Hadzide says Akufo-Addo moves around in a short in the history of the Republic of Ghana compared to past Presidents'.
The NYA CEO made the revelation on the TV3 New Day programme monitored keenly this portal when a Deputy Youth Organizer of the opposition National Democratic Congress (NDC), Edem Agbana advised that government needs to cut down costs by reducing the number of convoys used by the President.
Mr. Hadzide who disagrees with Mr. Agbana assertion stated, "President convoys are not long, he has the shortest convoy in our history."
He insisted that "What happens is that when the President is traveling, along the line many people join. So, they are not part of the President convoy."
Asking about the number of vehicles the President move in a convoy with, Mr. Pius said he is unable to disclose that now but added that he's aware of the number of conveys that followed the President when he was a Deputy Information Minister.