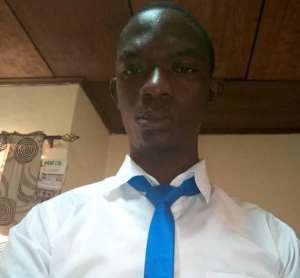 Mr Eric Obuaba
Mr Eric Obuaba popularly known as 'Mr Green', aspiring Communication Director for the NDC in Abuakwa North constituency of the Eastern Region, has questioned President Nana Akufo-Addo why his government has neglected his own constituency since he became President.
According to Mr Green, President Nana Akuffo Addo was a two term Member of Parliament for Akyem Abuakwa constituency i.e. in 1996 and 2000 before it was divided into Abuakwa North constituency and Abuakwa South constituency respectively in 2004.
The astute Communicator added the people of Abuakwa North want to remind President Akufo-Addo how Abuakwa North constituency contributed to his success in politics to become a president today.
"His Excellency Nana Addo Dankwa Akufo-Addo has deprived the constituency of developmental projects, most especially road projects. As it stands now, road networks in Abuakwa North are in a deplorable state which the President has turned a blind eye to it.
"The people of Abuakwa North are telling Mr. President that Abuakwa North also deserves better road network like it sister constituency (Abuakwa South) which is full of asphalt roads," Mr. Green lamented.
Mr. Obuoba also stated that in the 2021 to 2024 budget of Abuakwa North Municipal Assembly, it featured how bad the road network is in the municipal have turned into.
"But as it stands now, road networks in the municipality has worsened and that shows how the President, the leadership of the Municipal Assembly and the current MP has failed the people."
Mr Eric Obuaba (Mr Green) is calling on the Chiefs, religious leaders, stakeholders and the good people of Abuakwa North constituency to wake up and hold President Nana Addo, the Municipal Assembly and the MP (Hon. Gifty Twum-Ampofo) responsible.