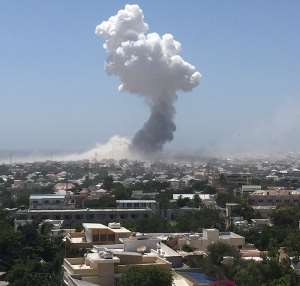 MOGADISHU. SOMALIA. One time MOGADISHU dwellers heard a deafening sound of huge explosion and plumes of smoke clouds were seen pillowing the sky, several people were confirmed dead and others were sustained a serious injuries.
No one knows the exact number of people died as a colossal blast went off on the road and rip through already dilapidated buildings in an area close proximity to the main international Airport in Somali capital Mogadishu. Al-Shebab group has claimed the responsibility.
An explosion in Somalia's capital Mogadishu on Wednesday killed dozens of people, the head of City's ambulance services said. The islamist group Alshebab has claimed the responsibility of the blast as usual... via their website, saying it targeted '' Foreign officers"
The group currently controls large swathe of territory in Somalia and often carries out bombings at high-profile locations and assassinations of top security and public officials.in the capital....
What do we know about the explosion?
The Somali national news agency. (SONNA) reported unspecified casualties, But an official told Reuters News agency that at least eight people were killed..
A car bomb targeted a convoy, including bullet proof cars using Avisione Street, we do not know who owns the convoy. We carried eight dead people from the scene..
Abdikadir Abdirahman, Director of an ambulance Service told Reuters.
Witnesses had said a UN Convoy seem to be the target of the bombing but The UN mission in Somalia confuted the reports. AFP Quoted Somali security official Mohamed Abdi as saying that bombing caused enormous devastation in the area.
A witness also told AFP that the devastation was " so huge that it has devastated and vandalized most of the buildings nearby the road and vehicles passing the area.. human flesh were scattered at the scene of the explosion. And people were lying on the ground and screaming for help while others were bleeding profusely and were rushed to the nearest hospitals for treatment.
What is the current plight in Somalia?
Sensitive electioneering is underway compounded with looming humanitarian crisis and Wednesday's explosion came just days after Somali leaders unanimously agreed on a new timetable for long-delayed and overdue elections.
The Horn of Africa nation had been marred by political squabbling and intractable turmoil amid a feud between the prime Minister and president.
Somalia is also battling an insurgency by Alshebab.the group has been fighting the weak and Western-backed government forces since 2007. It had controlled Mogadishu until it was pushed out by African Union forces in 2011.
Alshebab has often carried out plethora of attacks against Milian civilian soft targets in November, Alshebab claimed the responsibility for the car laden with an explosive which detonated near a school in Mogadishu, the attack killed at least eight people
The November attack came days after the group said it slain a prominent Journalist.
ABOUT THE AUTHOR: MOHAMED HUSSEIN MENTALIST. Author, blogger, prominent researcher, Horn of Africa Affairs analyst and senior lecturer at Mogadishu University.