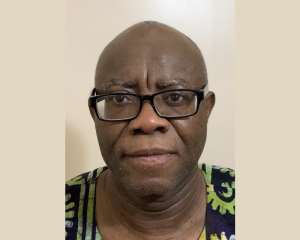 I usually prefer to steer far clear of the murky circles of Ghana's commercial entertainment industry and the morally and culturally unsavory and bizarre characters that people the same. In this particular instance, however, I find it absolutely necessary to wade into this otherwise totally irrelevant controversy because it provokingly verges on the decidedly political that ordinarily ought not to have been the case. It provokingly verges on the decidedly political because, we are reliably informed, it has to do with a kindly gesture that Vice-President Mahamudu Bawumia reportedly performed when he promptly reached out to a financially depressed perennial fixture on the local entertainment circuit by the name of Mr. Psalm Adjeteyfio, more popularly known as TT, who is widely associated with the local "Taxi Driver" popular sitcom series (See " 'May You Never Find Sleep' – MzGee 'Curses' Bawumia's Aide" Ghanaweb.com 1/13/22).
We are also reliably informed that Alhaji Bawumia, upon learning about the financially depressed situation of TT, sent the renowned actor the handsome sum of GHȻ 50,000, approximately $ 10,000 (USD). Actually, it may hover about the vicinity of $ 8,000 (USD). At any rate, whatever the real value of this most kindly gesture may be within the local Ghanaian context or market is patently irrelevant. What is most significant here is that a generous deed was done to TT by the former Deputy-Governor of the Bank of Ghana, which, of course, was all well and good. Then, also, we are told that TT's economic distress had originally been posted by a friend or some friends on social media which had gone viral, as it were. Which was how the Vice-President likely got wind of it and decided to reach out to the financially depressed actor which, of course, is not wholly an isolated incident for either Dr. Bawumia or the global entertainment and the political community at large.
Now, where the problem crops up regards the abject hypocrisy of Ms. Gloria Akpene Nyarku-Acquah, described by the media as a "showbiz personality by the name of MzGee." This American copycat showbiz sobriquet, and there is quite a slew of them down there, is one of the major turnoffs for me about Ghana's entertainment industry. There is this apparently abject lack of confidence and a withering display of inferiority complex that makes yours truly want to throw up anytime that he is unfortunate enough to be face-smacked with the same. At any rate, the hypocrisy here is that in the wake of Vice-President Bawmumia's generous gifting of TT with the sum of GHȻ 50,000, MzGee, reportedly, secretly audiotaped TT, presumably on all fours in her kitchen earnestly pleading to be offered some leftovers off MzGee's kitchen table. This actress or comedienne or whatever else she may be then dispatches a copy of her secretly audiotaped incident of TT's earnest plea to MzGee to be afforded some leftovers from her kitchen table to Dr. Gideon Boako, that is, Vice-President Bawumia's Economic Adviser.
What is interesting to note, beforehand, is that there is absolutely no evidence of MzGee's having signed a confidential agreement with Dr. Boako enjoining the latter to keep the secretly recorded audiotape of TT's pleading for leftovers close to the vest or in camera. And yet, now that the aforesaid audiotape appears to have been leaked into the global cyber domain, the real culprit, that is, MzGee, has the temerity to intemperately accuse Dr. Boako of having exposed TT, that is, the unsuspecting victim of her own secret and wicked audiotaping to ridicule, for which reason MzGee imprecates Dr. Boako with Biblical malediction or curses. Now, what kind of clinical insanity is this? And just what was the rationale behind MzGee's rather inexcusably unprofessional and heinously unethical decision to dispatch a copy of her secret recording of TT to Dr. Boako, to begin with?
It is quite obvious that MzGee's main and sole objective for dispatching her secretly recorded audiotape to Dr. Boako was to expose Mr. Psalm Adjeteyfio or TT for being a greedy bastard deserving of absolutely no financial assistance whatsoever. Now, if such observation has validity, and we have absolutely no doubt that it does, then it was unquestionably the very height of stupidity for MzGee to have expected Dr. Boako to keep his side of a bargain that was never struck, or an agreement that was never mutually entered into, to begin with. On the other hand, the Vice-President's Chief Aide or Economic Adviser had a bounden obligation to let the global Ghanaian community in on the sort of mendacities that many a highly placed Ghanaian official or politician is frequently besieged with, that is, mischievous tricks that are often hatched with the obvious intent of making "well-heeled" politicians and public officials look bad and criminally insensitive to the plight of the woefully underprivileged.
As well, the reason given MzGee by TT for persisting to cadge for crumbs from the kitchen table of MzGee, after having been generously gifted the relatively whopping sum of GHȻ 50,000 by Vice-President Bawumia, speaks about nothing short of the clinically cancerous disease of plain and simple greed. I also don't know what "political advantage" MzGee is talking about, when this most treacherous woman accuses Dr. Boako of playing it cheap and tawdry for political points. Did somebody from the Anti-Bawumia Camp, either within or without the New Patriotic Party, set MzGee up to this? We deserve some answers here.
*Visit my blog at: KwameOkoampaAhoofeJr
By Kwame Okoampa-Ahoofe, Jr., PhD
English Department, SUNY-Nassau
Garden City, New York
January 13, 2022
E-mail: [email protected]