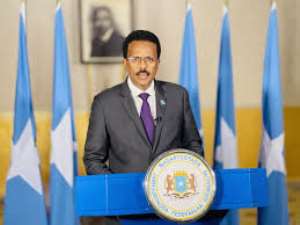 MOGADISHU. SOMALIA: MOhamed Abdullahi Mohamed's televised national address to the nation at midnight last night focuses on security, foreign policy and long-delayed elections. Long-awaited televised address which was broadcasted live to the state media as well as privately owned media outlets at late Monday rigorously welcomed a new election deal struck over the weekend by prime Minister Mohamed Hussein Roble and regional leaders in the capital Mogadishu and called for its urgent implementation..
The country's political leaders and stakeholders unanimously concurred to conclude the controversial and long-delayed elections by February 25 which is the stipulated deadline.
The president's speech, which appeared to stike a conciliatory and rapprochement tone was focused on the country's elections stalemate, security and foreign policy.
Brothers and sisters. Ladies and gentlemen, I would like to congratulate the recent consultative forum meetings in Mogadishu, which has yielded fruitful and positive outcomes that will strengthen the completion of the country's elections. She said impassionately.
He said the leaders issued communique which contained eighteen articles in response to the grievances, concern and trepidations marred the electoral process and how to overcome obstacles and conundrums lies overhead.
The communique also reaffirmed and reinvigorated the electoral accord that were key to the electoral direction agreement struck on 17 September, 2020 and ratified both chambers of the federal parliament. He said.
In a bid to defuse, ease and de-escalate the interminable political turmoil that ensued and emerged after he announced the suspension of the prime Minister and curtailed his constitutional authority for alleged corruption. Mohamed siad.
It is a time of turmoil, dissensus, conflict and schism and we all have the responsibility to uphold the dignity and sovereignty of our country.
Also dissidents candidates welcomed the president's speech and urged him to implement seriously, not words concrete actions is seriously required. They said in their statement.
ABOUT THE AUTHOR:
MOHAMED HUSSEIN MENTALIST. Author, blogger, prominent researcher, Horn of Africa Affairs analyst and senior lecturer at Mogadishu University.
AUTHOR. Holds BA in English Language and literature at Mogadishu University and BA in Business administration at Simad University. As well as Master of arts in applied Linguistics at Kisii University in Nairobi and Master of peace and conflict studies at Uppsala University in Sweden.