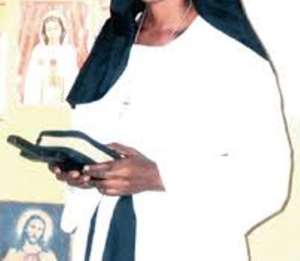 nd the spirit of the Lord came upon me, saying, prophesize, son of man. And I looked down upon the universe and low and behold I saw a bunch of prophets of doom in the land of gold. The Lord God of Israel said, son of man, take up your sword and slay them one by one. So here I go again, with my sword drawn and ready to mow down fake prophets who seem to be in control of the lives of unsuspecting men and women of this land of our birth.
Stand up on one foot, Nigel Gaisie. The Lord God of Israel revealed to me that you are fake and feeding on the blood of your congregation. You call yourself 'man of God' but you are rather enemy of God, misleading God's own people for the sake of getting rich. I listened to Nigel during his 31st December usual balderdash. I saw him reading from a tall list of prophesies which he said were revealed to him by God. He said God revealed as many as forty two prophesies. (Habba!) What a celebrated liar and a crook. If it were to be in the days of Pontius Pilate, this man would have been crucified after reading the list and telling his poor worshippers that they were prophesies revealed to him by the Lord of Host. Which of the prophets in the Bible listed a number of prophesies that God revealed to him to read to the hearing of the people of Israel? Surely, Prophet Nathan did not go to King David with a list. God revealed to him the sin of David and Nathan fearlessly went to deliver the message. Very Simple. Nathan did not wait for God to reveal to him a number of prophesies before he went to David.
This guy Nigel Gasie was trying to play smart but he was not clever enough. Umuofia is an Igbo town in Nigeria. The late great story teller, Chinua Achebe centered his narrations in Things Fall Apart on Umuofia so if Nigel is telling us that he was prophesying from what God told him in Umuofia he is a palpable liar. The truth is that "Prophet" Nigel Gasie is afraid of the IGP, Dr. George Akuffo Dampare. Dr. Dampare had warned these fake prophets to desist from making prophesies which could cause fear and panic and so in order to escape the dragnet this guy decided to use Umuofia so that Dr. Dampare will not come after him like the way he went after Jesus Ahuofe. This Nigel guy can fool Mr. Mahama and his cronies with his prophesies but surely not some of us who can easily read between the lines. But do you think Mr. Mahama will believe in this trickster again after his failed prophesy in the run-up to the 2020 and even 2016 elections? I can imagine the huge amount of money Mr. Mahama doled out to this self-appointed prophet. But for Nigel Gasie, I did not know that if a man of God prophesied that someone will win an election, the same God will open the gate for another person to steal the election.
You too standup, Owusu Bempa and stand at ease. You are number one doomsday prophet. It was you who prophesied that the Chief Imam will die but he is still alive. You don't have shame in your dictionary. You also cursed some individuals with your Frytol anointing oil and said they will all die but they are also alive. This 'prophet' also had a list of prophesies which he said God revealed to him. What is common with these lawbreakers is that they capitalize on the fear that people have to prophesize their death. They turn possibilities to be prophesies. If you prophesize that a ninety year old person will die, it is a possibility but not prophecy. By doing that they expect those people to come to them so that they will pray to cast the spirit of death away. Monies and candles will exchange hands and they will be richer. These so call prophets are criminals in cassocks. Period.
You see, this Owusu Bempa is gradually losing the respect that people have for him through his own behavior. The sad aspect of it all is that people, especially women flock to his church to seek salvation and he continues to deceive them. He has surrounded himself with bodyguards who are ready to act in case he is attacked. But who will attack such a person who is already facing the wrath of God. If Owusu Bempa is not having problem with Okomfo Agradaa, he is at loggerhead with the Muslim boys from Nima. Is this the way prophets in the Bible walked?
And you, Salifu Amoako, stand akimbo. Why did you fail to mention the name IGP Dampare but rather referred to him as 'a certain devil' who warned you not to prophesize. When you were out there misleading your flock, Dampare was watching you. If you are a man and a man of God for that matter, try it and you will see that man pass man. This particular guy said in his so-call prophecy that 2022 will be a year of major destruction. According to him there will be rainfalls in India where many people will be carried away by floods. How laughable. Somebody should tell this trickster that some of us can prophesize more than he did on the 31st December night, if indeed what he said was a prophecy.
Mankind is currently facing disaster across the globe due to climate change so if you tell me that flood will kill people in India it is not a prophesy but something which could happen and it is even happening in India and many countries. He said 2022 will witness "national death" What is national death? According to him an angel 'settled' him in the US, Nigeria, India among other countries. Why did the angel not leave him there since the standard of living in the US for example is far better than that of Ghana? The truth is that like his fellow call Nigel Gaisie, he is afraid of the IGP. He said the IGP has suppressed the spirit of prophesy. How stupid. Can a human being suppress God's prophesy? Watching him on my television, he made me to remember the Jaguar Jokers of yesteryears. These comedians who used to entertain Ghanaians in the sixties could make you dislodge a rib through the jokes they cracked. Salifu Amoako is a comedian.
Anyway why should all these so-call prophets wait until 31st December before they prophesize to the nation? After milking their unsuspecting congregation all these days, they top it up on 31st December with their idiotic prophesies. By now, some of these fake prophets are out there shopping for the new model of the type of car they dreamt of. Thieves! As for me if any silly doomsday prophet and charlatan tells me that I will die, I will visit his church on a Sunday with my sons, pull him out and give him severe beatings. And with that mission accomplished I will go home and enjoy life while I continue to work hard, believing that it is the Lord who gives life and it is He who takes away life. Standby, 'Bishop' Obinim and Badu Kobi. I am gonna spit fire on you.
Today I will puff my last stick of Churchill cigar. Can any bitch of a fake prophet tell me the type of cigar I will puff next week? AKRONFUO!!!
By Eric Bawah