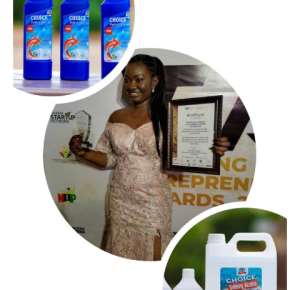 A popular Accra-based local manufacturer, Madam Anastasia Acquah has observed that the developmental agenda of the country can be realized if government takes the necessary steps to support the local manufacturing companies who in her view, are making giant strides to help grow the country's economy.
Madam Aquah, the Chief Executive Officer (CEO) of Anapat Choice Enterprise indicated that the manufacturing sector can create more job opportunities for the youth and generate more revenues for development if government provides the enabling environment for them to operate profitably.
She said this in an interview with this reporter on Saturday, December 18, 2021 at the Accra City Building Conference Hall (Accra Metropolitan Assembly).
This was after she received the Overall Best Manufacturing Entrepreneur Award of the year (2021) organised by Young Entrepreneurs, a youth group to recognise local young entrepreneurs and encourage them to impact positively in national development.
According to her, though it is important for government to continue to encourage young people especially graduates to venture into entrepreneurship, financial assistance must be made available for start-ups.
Madam Anastasia Acquah's outfit which produces quality liquid soap, toilet seat spray, toilet bowl cleaner, rubbing alcohols, hand sanitiser, thick bleach and concentrated disinfectants said government reduce the cost of doing business, low-interest loans and credit facilities to new and existing companies to compete with their foreign peers.
According to her, she started her carrier through the informal training of household chemicals production and medium scale household disinfectant and cleaning products with two workers in 2018. She now boasts of employing more permanent staff.
She appealed to financial institutions to provide support to young entrepreneurs to enable them create more jobs to curb the unemployment menace in the country.