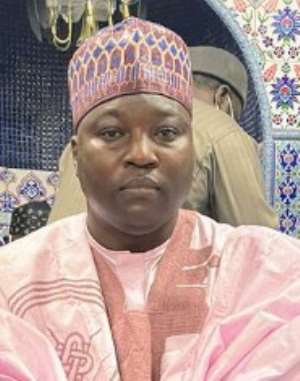 The Yankasa Association of the USA held its 10th Presidential Inauguration on December 26th, 2021, at the Yankasa Masjid.
The event started a little after 7:00pm immediately after the Isha prayers.
It was very grand, well organized and well attended and above all very colourful. Both floors of 1707 were filled to capacity with people standing outside in the freezing weather.
Yankasa has never seen or had any occasion such as this. The atmosphere was nice and friendly. Everybody was happy, hugging and shaking hands. Food was in abundance and everyone had his fill. All the players played their roles accordingly from the Moderator Alhaji Sulleyman, the Chairman for the occasion Alhaji Tanko "The Dandawa Chief "to the Secretary General of The Council of Elders Alhaji Abu who was at his best.
However, the people who stole the show were the newly elected executives led by good old Jakarda Alhaji Shuaib Musah the newly elected 'no nonsense' treasurer. They were young, sharp, good looking and just amazing to look at and they include the following:
Farid Abu " the Gruma Chief" ; Baba Alhaji; Sarauta Kataki; Bala Saeed; Muta Adams; Yahaya Randy; Dady Yarema; Ibrahim "Police"; Tall and lanky Zaid and of course The Chief Imam Malam Salley.
Then came the swearing-in session during which the entire floor shook to the core as a result of so much noise. People were overjoyed.
The Chief Imam was the first to be sworn in by Alhaji Yahuza "The Muslim Chief " who in turn swore in the entire executive, followed by the Vice-President Bashiru Kabore and finally the President Ibrahim Abdulai Masigan.
Missing in action, however, were the entire members of the opposing team and whether this was by coincidence, design or a pre-planned action, that would be left for history to judge. But if it looks like a boycott, smells like a boycott then it was a boycott. But as the saying goes " Do unto others what you want done unto you".
In the final analysis, this new administration shows that the youth are now prepared and ready to fill in our shoes and continue from where we left off and needs our full support spiritually, physically and psychologically. We need not pray for their failure because their failure is our failure. Rather we should pray for their success because their success is our collective success.