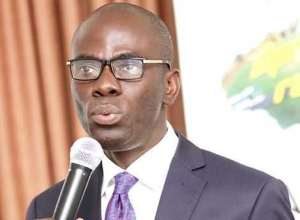 Rev. Albert Ocran
Rev. Albert Ocran has advised that it is okay to move on from one business to the other if interest and the will to continue begins to diminish.
The renowned life coach and successful businessman shared this priceless advise during an appearance on MTN Ghana's latest session of 'Bright Conversations' held on Wednesday, December 22, 2021.
He said although one must show commitment when working on any project or business, one should know when it is time to move on from a failing venture.
Rev. Albert Ocran disclosed that sometimes, success could be in the next step and for that matter people should be bold to take on new challenges when necessary.
"If the thing is not working don't hold on and be emotional and think what will people say. Be honest, be bold, and reinvention is a very significant part of life," Rev. Ocran who is co-founder of the Springboard Road Show Foundation shared during the interview on Bright Conversations today.
On the same platform, Mrs. Comfort Ocran, the wife of Rev. Ocran advised young people to be careful when choosing life or business partners.
She stressed that although love is important, it is not enough for any partnership to succeed since it will not pay the bills.
Mrs. Comfort Ocran said, "Life is a journey and as the elders say, every journey that you start, sometimes you can go alone and sometimes you go with others. In the quest to go with others, look for someone or some significant person who shares your dreams, who understands you, who believes in you, who says that your joys are my joy, your sorrows are my sorrow. And you as well bring yourself to the table because it is not enough just asking somebody to show up and you do not show up.
She concluded, "Together when you show up together you are able to make that magic that makes the world a better place because you are there contributing and making lives better for those around you."

The adored couple in sharing experiences from a successful marriage in the last 28 years, urged people looking to enter into a relationship or partnership of any kind to prioritise transparency, mutual respect, common goal, as well as trust.
The MTN Bright Conversation series is a novel initiative by MTN Ghana organised as part of the activities marking the company's 25th-anniversary celebrations.
The purpose is to celebrate distinguished persons whose ideas, thoughts, and reflections have helped to shape the Ghanaian society.
Early this year, the leadership programme hosted Nana Kwasi Gyan Apenteng the immediate past chairman of the National Media Commission, and Rev. Dr. Joyce Aryee of the Salt and Light Ministries.
Before Rev. Albert Ocran and his wife Mrs. Comfort Ocran today, Professor Kwame A. Karikari also took the seat to share his rich experience in Journalism.