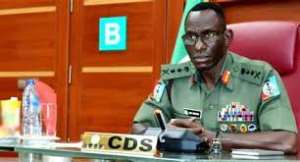 Chief of defence staff, General Lucky Irabor
Nigerian military staffs are in the social media news again. Nigerians and the world were stunned after soldiers along with the police opened fire on protesters against police brutality.
In recent times the psychology of lies markedly affected the Nigeria military in the manner it responded to the Lekki shootings of peaceful End SARS protesters: We were not there! We only shot blank bullets; oh we did fire live bullets. Only for the Lagos Governor Sanwo-Olu to fully expose the wishy-washy military responses by saying shootings occurred. I felt sorry for them, given the once fine military psychology of the Nigerian armed forces.
Recently, a video clip of a female Nigerian soldier was seen assaulting and dehumanizing a female member of the National Youth Service Corps (NYSC) in Cross River State. The female soldier was seen pouring an unknown white substance on the kneeling NYSC lady. Clear sign of abuse of power. This leads to the question about the psychological fitness of entrants into the military.
Now, from aggression to sexually gratifying acts which was seen when a female soldier in a video fully outfitted in her official khaki camouflage was seen kissing a male corps member as part of accepting a marriage proposal. She was also seen allowing the corps member to wear her military cap. This happened at the NYSC orientation camp in Kwara State.
The female soldier has been rightly arrested by the Nigeria military for this unprofessional open display of romantic relationship with a trainee. This is wrong, period.
Here are some of the reasons why Nigerians must be careful about this incident and not support indiscipline.
Psychologically and ethically, this female is not just a woman but a uniformed soldier in an inherently unequal positions with a trainee, in his vulnerable position as a learner.
This female soldier by virtue of her professional roles as a protector, guard, coach, mentor, and trainer she should have known that her profession prohibits certain relationships. Like the one between a protective and mentoring hand and learners or trainees.
In an orientation and training environment like that of the NYSC, just like a school setting, sexual or romantic relationship must not occur between an advice-giver and advisee. Between a staff and a trainee.
Because there is the potential for conflict of interest, exploitation, favoritism, and bias, as such relationships may undermine the actual integrity of the military services provided to trainees.
Nigerians must understand that she is a member of the armed forces, a position that confers power or authority compared to the struggling and yet to settle trainee despite his maleness. That is the real issue.
Even when both parties have consented at the beginning to a sensual or romantic involvement, and to a proposed marriage, her conduct is unwelcomed.
In an orientation and training environment behaviors like these create a messy environment with a negative effect as it sends a message that it is ok to 'do it'. It opens an environment in which other trainees end up falling prey to negative trainer-trainee environment.
Such associations may also have unintended, adverse effects on the climate of an instructive program or potential workplace.
It should be noted that a setting like NYSC, the role of non-trainees is multifaceted, including serving as professional guide and role model. The Military's and the NYSC integrity must be maintained always.
The female soldier's behavior reflects the larger society where lecturers use their influences and entitlements to take advantage of those entrusted under their watch. This military female staff has direct or indirect supervisory responsibilities for all trainees.
While I do not know her specific responsibilities over the trainees, but now that she has engaged in a romantic relationship with a trainee, on no grounds can she be involved in any type of professional guarding, mentoring, or advising, evaluating, and participating in decisions regarding the trainee.
Should she return to the NYSC camp or any other camp, the said trainee must recuse himself and notify his supervisor so that alternative oversight or training arrangements can be put in place.
Certainly, there are already existing policies governing military and civilians' interactions such as with a trainee.
I have no doubt that there are already policies that prohibit NYSC trainees from having consensual sexual or romantic relationships with fellow trainees.
Where there is a relationship between a government official and a trainee the policy must state the individuals should disclose the facts and seek guidance rather than fail to disclose.
Government's employees like this female soldier who engaged in relationships with a trainee should be subjected to disciplinary action including therapy, or even discharge. They could be accountable for any adverse consequences that result from those relationships, especially on the trainee.
Bias by trainers and protectors of trainees may negatively affect trainees' professional preparations as well as emotionally.
Government officials like this uniformed military official must learn to draw and maintain boundaries of authority and morality.
Assigned military personnel as part of their signed documentation to serve in NYSC environments shall uphold all relational rules and others.
Trainees must sign that they will not engage in improper relationships in NYSC with any staff.
This female soldier and others through periodic updates should be reminded that improper relationships in the military and NYSC, which can range from business relationships to friendships to romantic relationships are prohibited.
And once they report to the postings, there should be NYSC documentations which they must sign as part of respecting the assigned posting.
There is no room for appearance of impropriety. Engaging in relationships deemed inappropriate by the military and NYSC could create a dangerous environment of fear and marginalization not just among instructors but other trainees.
All staff need to sign an agreement that outlines a variety of expectations, one of which includes living a lifestyle in harmony with ethical teaching and principles.
Across orientation camps some sort of code of conduct must be posted and prominently displayed for both trainees and government/contracted employees to see.
Instilling discipline is one of the critical roles of training grounds and Nigerians must stop this nonsense of backing and defending lawlessness. Like him or not here is the bitter truth: "We're Nigeria's problem, not our ethnicity, religion – President Buhari"
John Egbeazien Oshodi who was born in Uromi, Edo State in Nigeria, is an American based Police/Prison Scientist and Forensic/Clinical/Legal Psychologist. A government Consultant on matters of forensic-clinical adult/child psychological services in the USA; Chief Educator and Clinician at the Transatlantic Enrichment and Refresher Institute, an Online Lifelong Center for Personal, Professional and Career Development. A former Interim Associate Dean/Assistant Professor at the Broward College, Florida. The Founder of the Dr. John Egbeazien Oshodi Foundation, Center for Psychological Health and Behavioral Change in African settings. In 2011, he introduced the State-of-the-Art Forensic Psychology into Nigeria through N.U.C and the Nasarawa State University where he served in the Department of Psychology as an Associate Professor. The Development Professor and International Liaison Consultant at the African University of Benin, and a Virtual Faculty at the ISCOM University, Benin of Republic. Founder of the Proposed Transatlantic Egbeazien University (TEU) of Values and Ethics, a digital project of Truth, Ethics, Openness. Author of over 40 academic publications/creations, at least 200 public opinion writeups on African issues, and various books. He specializes in psycho-prescriptive writings regarding African institutional and governance issues.
John Egbeazien Oshodi wrote in via [email protected]